Announcing Amaryllis, at long last
March 7, 2009|Posted in: Uncategorized
Ladies and Gentlemen!
I am so excited to announce…the publication of my second book, Amarylis: Collected Poems, on March 11, and a cool way to help my dear friends at the Alameda Food Bank.
We're holding a book launch party and reading at a coffeehouse in Alameda, as a benefit for the Alameda Food Bank. Please bring at least one canned or nonperishable food item to donate to the food bank.
There will also be three gift baskets (including a copy of the book) to raffle for the Food Bank. These are "Think Pink," "Flower Power" and "Pamper Yourself" themes, for $1 per ticket/chance.
I would love to see you at the reading. The evening includes a brief youth poetry reading (some of my couch-surfing feral teens will make a literary appearance), book signing and a reading. Non-alcoholic beverages and desserts are available for purchase at the counter. The books will be on hand for sale — $12.95 plus tax = $14 total (more or less) and I will happily sign it for you or loved ones.
Wednesday, March 11, 7-9 p.m. (come earlier if you want to! Reading at 7:30)
Crosstown Coffeehouse & Community Center
1303 High Street (corner of High and Encinal)
Alameda
Neighborhood street parking or public transportation (AC Transit 63), or small parking lot across the street at the Encinal Market.
(Directions: Take 880 to High Street exit — head west (toward the Bay, away from the Oakland Hills); cross the High Street Bridge into Alameda and don't drive more than 25 mph! Crosstown Coffeehouse is about half a mile up on the right side; the traffic light at Encinal, and the flowing water fountain inthe island,will be your landmarks.)
Crosstown Coffeehouse telephone: 510.864.8600
Questions beforehand? Call me at 510.427.7974.
Don't like poetry? Come anyway, but do bring canned foods and your iPod or some earplugs. Black berets and bongos encouraged…
Facebook Conversations
comments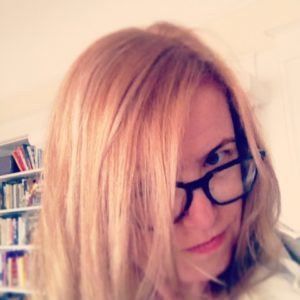 Julia Park Tracey is an award-winning journalist, author, and blogger. She is the author of six books: three novels, one poetry collection, and two women's history. She was the Poet Laureate of Alameda, California, in 2014-17. She's also the conservatrix of The Doris Diaries, the diaries of her great-aunt Doris Bailey Murphy. She has a BA in journalism from San Francisco State University, and MA in Early 20th C. British Literature from Cal State Hayward. Julia's articles have appeared on Salon, Thrillist, Paste, Scary Mommy, Narratively, Yahoo News, Your Tango, and Sweatpants & Coffee. Her articles have also run in Redbook, Woman's Day, Country Living, House Beautiful, Town & Country, the San Francisco Chronicle, Oakland Magazine, Quill, and MadeLocal. She was the founding editor of weekly Alameda Sun and literary zine Red Hills Review. Her poetry has been in The East Bay Literary review, Postcard Poems, Americus Review, Cicada, Tiferet Review, and many others. Julia has been recognized several times by the San Francisco, East Bay and Peninsula Press Clubs as well as the California Newspaper Association for her blogging since 2003.
1 Comment