The Writer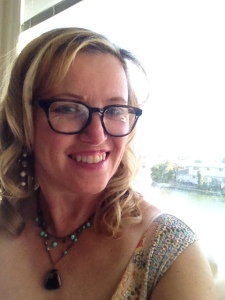 Julia Park Tracey is an award-winning journalist, author and blogger. She has written for and edited newspapers and magazines in California since 1982; the adventures of Veronika Layne in the Hot Off the Press series are inspired by Julia's real-life reporting. She has recently written for Salon, Paste, The Mid/Scary Mommy, Thrillist, Quill, The Monthly, Sweatpants & Coffee, Oakland Magazine, and many other publications in print and online. She writes about the arts, food and beverages, and books.
Julia was selected as Poet Laureate for the city of Alameda, California, in 2014. She reads and teaches poetry to all ages and grades, leads literary events citywide, and representing the city at literary events such as Litquake. Her short fiction and poetry have been anthologized and published in print and online in the United States, the United Kingdom, and Japan. Julia has a BA in journalism from San Francisco State U. and a MA in English/Creative Writing from California State University East Bay.
Her award-winning biography of the 1920s, I've Got Some Lovin' to Do: The Diaries of a Roaring Twenties Teen (2012) was followed by Reaching for the Moon: More Diaries of a Roaring Twenties Teen (2013). Both have won awards for biography and non-fiction at independent book festivals. Julia is also the author of a novel, Tongues of Angels, two mysteries (the Veronika Layne series), and a collection of poetry, Amaryllis.
An ecofreak, a cat-lady-in-training, and a chaser of stories, Julia lives in the Russian River Valley. She is married and shares a blended family of five creative geniuses. Her husband deserves a medal for patience and general wonderfulness.
Contact
Send your messages using the contact form below. Thank you!