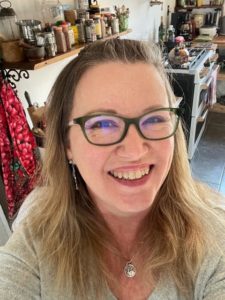 Julia Park Tracey, the executive editor at Sibylline Press, is an award-winning journalist, essayist and poet. She has written for and edited several newspapers and magazines in Northern California. Julia has written for Huffington Post, Salon, Paste, Scary Mommy, Thrillist, Redbook, Narratively, Oakland Magazine, San Francisco Chronicle Sunday Insight, and many other publications in print and online. She writes about history, books, food and beverages, and the arts.
She is the author of three novels: Tongues of Angels, Veronika Layne Gets the Scoop, and Veronika Layne Has a Nose for News (out of print, Booktrope); two collections of women's history (I've Got Some Lovin' to Do: The Diary of a Roaring Twenties Teen, and Reaching for the Moon: More Diaries of a Roaring Twenties Teen), and a volume of poetry, Amaryllis: Collected Poems (Scarlet Letter Press, 2nd ed. 2021).
A bird nerd, apiarist, cat lady and chaser of stories, Julia lives in Gold Country in the California foothills in an 1800s Victorian that she painstakingly rescued. 
Julia was selected as Poet Laureate for the city of Alameda, California, in 2014-2017. Her short fiction and poetry have been anthologized and published in print and online in the United States, the United Kingdom, and Japan. Julia has a BA in journalism from San Francisco State and a MA in English/Creative Writing from California State University East Bay.
Contact
Send your messages using the contact form below. Thank you!