Work-in-Progress blog hop!
April 23, 2015|Posted in: authors, Books, Booktrope, gratitude, NaNoWriMo, novel, Tongues of Angels, Uncategorized, Veronika Layne, work, writing
I know I wrote on
 this topic about six months ago, but I'm working on new things, so I said yes to the invitation to share my WIP. I was invited by Laurie Baxter (click here to visit her blog post). Thanks, Laurie!
What is your working title of your book (or story)?
Veronika Layne Has a Nose for News: #2 in the Hot Off the Press Series
Where did the idea come from for these books?
I wanted Veronika to have some more adventures, of course, but my friend Woody Minor told me a true story about a local Victorian house that possibly had Gold Rush coins hidden in the walls. I took that idea and ran with it.
What genre do your books fall under?
Veronika is a mystery. My Hot Off the Press series is suspenseful and romantic, but closer to NA mystery than anything else. You could also call them chick-lit but NA (New Adult) is the preferred term these days.
What is the one-sentence synopsis of your book?
Veronika Layne chases a story about a Hollywood real estate house flipper, mysterious gold coins, and why someone is buying up old houses on San Pedro Island.
Will your book(s) be self-published or represented by an agency?
Booktrope, a hybrid publisher, is representing my Veronika Layne series, as well as Tongues of Angels.
How long did it take you to write the first draft of your manuscript?
I wrote this quickly, as a NaNoWriMo project — thirty days! But revisions took quite a bit longer. I revised for several months after that. it's a short book, just 50,000 words, so it goes fast, both reading and writing.
What other books would you compare this story to within your genre?
I think you can compare Veronika Layne Has a Nose for News with anything that Dick Francis wrote — it has the same steeped-in-her-occupation as Francis's jockeys or other MCs. You could also compare Veronika with Bridget Jones, for getting into sticky situations and feeling like a flop.
Who or what inspired you to write this book?
My friend Woody gave me the idea, but I have been nurturing Veronika Layne inside of me for some time. She has the characteristics of my daughters — smart, feminist, fun — with the shrewd journalist I longed to be. She has some of my insecurities but she hasn't yet attained wisdom. I'm enjoying watching her grow as a woman and as a reporter.
I also included a character named Flo who was a real-life sweet friend and neighbor of ours who painted beautiful florals and still lifes. I have several of her paintings. The story about Flo is mostly true. Here's some of the real Flo's work:
I still miss Flo today, and was happy I could include her in this sub-plot about a talented artist who acts as Veronika's surrogate grandmother. These paintings are in my office and I see and love them every day.
Facebook Conversations
comments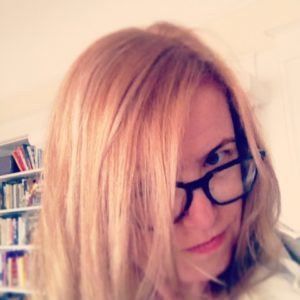 Julia Park Tracey is an award-winning journalist, author, and blogger. She is the author of six books: three novels, one poetry collection, and two women's history. She was the Poet Laureate of Alameda, California, in 2014-17. She's also the conservatrix of The Doris Diaries, the diaries of her great-aunt Doris Bailey Murphy. She has a BA in journalism from San Francisco State University, and MA in Early 20th C. British Literature from Cal State Hayward. Julia's articles have appeared on Salon, Thrillist, Paste, Scary Mommy, Narratively, Yahoo News, Your Tango, and Sweatpants & Coffee. Her articles have also run in Redbook, Woman's Day, Country Living, House Beautiful, Town & Country, the San Francisco Chronicle, Oakland Magazine, Quill, and MadeLocal. She was the founding editor of weekly Alameda Sun and literary zine Red Hills Review. Her poetry has been in The East Bay Literary review, Postcard Poems, Americus Review, Cicada, Tiferet Review, and many others. Julia has been recognized several times by the San Francisco, East Bay and Peninsula Press Clubs as well as the California Newspaper Association for her blogging since 2003.
2 Comments
Work in Progress Blog Hop | Monica Bruno - […] on my current work in progress. I was invited by the talented Julia Park Tracy (so, click here to…
Work in Progress Blog Hop ~ Monica Bruno - […] on my current work in progress. I was invited by the talented Julia Park Tracy (so, click here to…