Chinese New Year Part I
January 30, 2006|Posted in: Uncategorized
Missive From Mia
Hiiii, mama. i miss you!! i am actually on my break at work but i discovered the dana center (which is right behind and affiliate with the science museum) has free internet access! woohoo! so here is a quick line/update on life here in the UK.
a) i'm BROKE! but i get paid tomorrow and so will see what life will mean for the next month a.k.a. my birthday month!
Mama's note: Mia's birthday is Feb 27 and she'll be 21. My baby!
b) we went to chinese new year with some kids from work last night but everything really exciting was over and we basically admired the lamps and settled for some overpriced restaurant chinese, which turned out to be a HUGE disaster. they were OUT of everything (even potstickers –what?!) and kept screwing everyone's orders up, giving meat to the vegetarians, bringing out everyone's food at different times, etc. etc. and then trying to make us pay for all these dishes we didn't order! ahh!
so we all paid more than we wanted for half-decent food that barely filled us (i ended up with a bowl of hot and sour soup, a spring roll and half a plate of noodles). To make ourselves feel better we all headed into the haagen daaz cafe and sat down in these huge plush chairs with ginormous bowls of ice cream sundaes. DELISH!
tonight: lindsay and i have signed up for 10 days of bikram yoga. (I keep calling it tantric yoga… not the same thing at all) so we are jamming over there after work to sweat off all these chips! i have lots more to tell you but i am due back so i will make sure to stop by the internet cafe tomorrow or my day off, Wednesday, and write more.
kisskisskissmiaaaaaaaaaaaa
Facebook Conversations
comments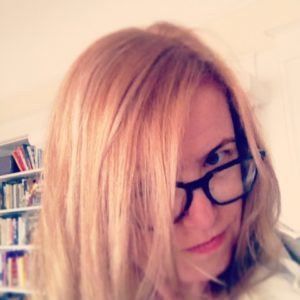 Julia Park Tracey is an award-winning journalist, author, and blogger. She is the author of six books: three novels, one poetry collection, and two women's history. She was the Poet Laureate of Alameda, California, in 2014-17. She's also the conservatrix of The Doris Diaries, the diaries of her great-aunt Doris Bailey Murphy. She has a BA in journalism from San Francisco State University, and MA in Early 20th C. British Literature from Cal State Hayward. Julia's articles have appeared on Salon, Thrillist, Paste, Scary Mommy, Narratively, Yahoo News, Your Tango, and Sweatpants & Coffee. Her articles have also run in Redbook, Woman's Day, Country Living, House Beautiful, Town & Country, the San Francisco Chronicle, Oakland Magazine, Quill, and MadeLocal. She was the founding editor of weekly Alameda Sun and literary zine Red Hills Review. Her poetry has been in The East Bay Literary review, Postcard Poems, Americus Review, Cicada, Tiferet Review, and many others. Julia has been recognized several times by the San Francisco, East Bay and Peninsula Press Clubs as well as the California Newspaper Association for her blogging since 2003.