Big Trouble
March 4, 2004|Posted in: Uncategorized
…yep, that's what I'm in. Mostly because I've been so swamped, with the newspaper changing dates of publication (from Friday to Thursday), with elections, with running around and commuting and general busy-ness, I just haven't had the time to post. It feels bad to miss it, so thanks for your messages and e-mail, and I will endeavor to provide.
Advice to Aspiring Writers: Life gets in the way of the writing sometimes. But that's what it's all about, baby.
I've found myself writing a lot in my head these days, with no way to get it onto paper (or electronically), and that is both satisfying and frustrating. Any fantasy is satisfying while it's happening, but it's vexing to know that while you're having the fantasy — i.e., writing in my head — it isn't the real thing. And the recreated effort later is never as pure as the first rush. I have written at least five long columns, a goodly 500 words or more, just driving, or waiting, or musing out in the world, and when I've finally had the time to write them, it becomes this stale drivel. Ugh. Not pleasant reading even for me.
That's why it is a good idea to carry a notebook at all times. I'm still trying to figure out how to write and drive at the same time, on my 100-mile-round-trips daily. A laptop with voice-recognition software is my first choice, but anything will do. I guess I could even go for one of those stupid mini-recorders. But I hate listening to the sound of my own voice on tape — my apologies to those of you who have to hear it on a daily basis. But it would help me remember what I wanted to write about later.
Note to self: make more notes to self.
There's more to talk about: children and religion, the great steeplechase, gibberish everywhere and the horror of one white hair. Later — when it isn't so late.
Facebook Conversations
comments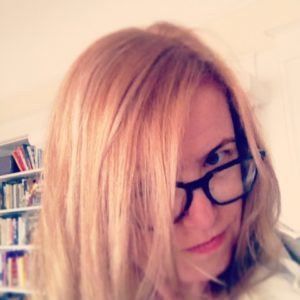 Julia Park Tracey is an award-winning journalist, author, and blogger. She is the author of six books: three novels, one poetry collection, and two women's history. She was the Poet Laureate of Alameda, California, in 2014-17. She's also the conservatrix of The Doris Diaries, the diaries of her great-aunt Doris Bailey Murphy. She has a BA in journalism from San Francisco State University, and MA in Early 20th C. British Literature from Cal State Hayward. Julia's articles have appeared on Salon, Thrillist, Paste, Scary Mommy, Narratively, Yahoo News, Your Tango, and Sweatpants & Coffee. Her articles have also run in Redbook, Woman's Day, Country Living, House Beautiful, Town & Country, the San Francisco Chronicle, Oakland Magazine, Quill, and MadeLocal. She was the founding editor of weekly Alameda Sun and literary zine Red Hills Review. Her poetry has been in The East Bay Literary review, Postcard Poems, Americus Review, Cicada, Tiferet Review, and many others. Julia has been recognized several times by the San Francisco, East Bay and Peninsula Press Clubs as well as the California Newspaper Association for her blogging since 2003.