and now, pickles
August 9, 2010|Posted in: food, garden, green, My little city farm, preservationista, sustainable living
While we were out…the cukes and zukes went crazy. I knew they would. The tomatoes are conspiring to be right behind. But I've counted all my jars and it looks like time to pickle. Today: "Sandwich stackers," they call them at Vlasic. Gonna slice those cucumbers lengthwise and fill two 1/2 gallon jars with refrigerator pickles. I would attempt to seal these jars for shelf-life, but I don't have a pot large enough for a full water bath. Actually, I do — that's a fib — but I'm scared to use it. It's called Chitty Chitty Bang Bang, and it's my ginormous pressure cooker [shudders].
Before
Cucumbers from the garden. More than we can eat in one sitting. Even on our best days.
Empty jars. Well, obviously.
After
Pickles! [cue angel choir]
And then there were pickles.
Next on the agenda? Pickled peppers. We have hot peppers (mine) and mild peppers (farmers' market), and The Boy likes them on sandwiches. So here we go with my Five Little Peppers mix (the mild ones are just sandwichy, but the hottest ones are Anaheim = jalapeno-hot or hotter).
And that's how we do around these parts. (Note cleverly reused pepper jar. I might trick you into thinking these are from
Mezetta.
But they're not. Gotcha!)
Need help? Consult the oracle.
Facebook Conversations
comments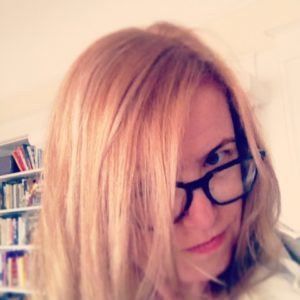 Julia Park Tracey is an award-winning journalist, author, and blogger. She is the author of six books: three novels, one poetry collection, and two women's history. She was the Poet Laureate of Alameda, California, in 2014-17. She's also the conservatrix of The Doris Diaries, the diaries of her great-aunt Doris Bailey Murphy. She has a BA in journalism from San Francisco State University, and MA in Early 20th C. British Literature from Cal State Hayward. Julia's articles have appeared on Salon, Thrillist, Paste, Scary Mommy, Narratively, Yahoo News, Your Tango, and Sweatpants & Coffee. Her articles have also run in Redbook, Woman's Day, Country Living, House Beautiful, Town & Country, the San Francisco Chronicle, Oakland Magazine, Quill, and MadeLocal. She was the founding editor of weekly Alameda Sun and literary zine Red Hills Review. Her poetry has been in The East Bay Literary review, Postcard Poems, Americus Review, Cicada, Tiferet Review, and many others. Julia has been recognized several times by the San Francisco, East Bay and Peninsula Press Clubs as well as the California Newspaper Association for her blogging since 2003.
2 Comments