An aside, and then prep for the PP
May 30, 2011|Posted in: Books, My World and Welcome to It, plastic, sustainable living, writing
Dude, look what I found… my novel, years of blood, sweat, toil, angst and actual lived history: available used for $3.28. *sigh* It's better than when I found it used on the discard pile at the Alameda Friends of the Library sale last year (I know who you are — I saw the inscription…). Anyway — fame and infamy. It's everything it's cracked up to be. *facepalm*
But never mind that. We're working on the Plastic Purge, or getting ready for it. And everywhere I look, there's plastic. Plastic! My magazine came wrapped in plastic. My vitamins are sealed in plastic. My shampoo bottle is plastic. My fish fillets are vacuum-packed in plastic, inside a plastic bag. My mayonnaise is in a plastic jar. My ketchup, too. My eBay packages come in plastic. My meat comes in plastic. My new clothes have plastic tags on them that I have to snip and discard. Is it just me, or are we drowning in plastic?
I always think it's just me. But it's not; plastic is really everywhere.
The Plastic Purge begins Wednesday. And I will start fresh on that day, June 1. I've had to tread carefully beforehand, because I don't want to have had my purge before the official time. But the more I look, the worse it is. It's in my car, it's in my mail, it's in my coming in and going out. Stepping off the plastic bus is going to take an entire revise of how we've lived til now. Shopping, cooking, storing, eating, shipping, gifting, sharing, bathing. It's all fraught with the use of plastic, and changing that will be a trial.
Good thing I'm ready for a challenge. Are you?
Facebook Conversations
comments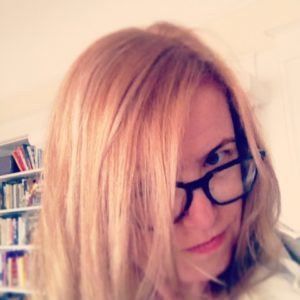 Julia Park Tracey is an award-winning journalist, author, and blogger. She is the author of six books: three novels, one poetry collection, and two women's history. She was the Poet Laureate of Alameda, California, in 2014-17. She's also the conservatrix of The Doris Diaries, the diaries of her great-aunt Doris Bailey Murphy. She has a BA in journalism from San Francisco State University, and MA in Early 20th C. British Literature from Cal State Hayward. Julia's articles have appeared on Salon, Thrillist, Paste, Scary Mommy, Narratively, Yahoo News, Your Tango, and Sweatpants & Coffee. Her articles have also run in Redbook, Woman's Day, Country Living, House Beautiful, Town & Country, the San Francisco Chronicle, Oakland Magazine, Quill, and MadeLocal. She was the founding editor of weekly Alameda Sun and literary zine Red Hills Review. Her poetry has been in The East Bay Literary review, Postcard Poems, Americus Review, Cicada, Tiferet Review, and many others. Julia has been recognized several times by the San Francisco, East Bay and Peninsula Press Clubs as well as the California Newspaper Association for her blogging since 2003.
4 Comments