my family doesn't hate me yet
June 4, 2011|Posted in: family, green, My World and Welcome to It, no waste, plastic, sustainable living
Perhaps they fear me. I don't know, but this is what happened yesterday. Adult daughter and her boyfriend come into the house bearing a pizza in a box and stop when they see me. "Can we have this?" she asks. She opens the box, shows me the pizza and the accompanying foil packets of Parmesan cheese and red pepper flakes. Green waste and recycling, no plastic at all.
"Yes," I said. "Enjoy." And they did.  Julia 3, Plastic 2
Mr. Husband had a no-plastic adventure yesterday as well. He had purchased some foot spray from Target, but all four cans were defective (that happens a lot with Target products, I find, but that's another topic and Challenge for the future). He took the cans to work and found a plastic bag somewhere in the office. He returned the cans and left the plastic bag with the customer service desk. He then purchased four more cans of foot spray and refused the proffered plastic bag, opting instead to put the cans into his pocket, holster-style, like some kind of cowboy fighting athlete's foot. "I'm Anti-Fungal Man!" (cue theme song).
He followed up this little shopping venture with his usual stop for popcorn and soda, enjoying popcorn in a paper bag (yay for traditions!) and refusing the straw and plastic lid to his waxed-paper cup beverage.
Julia/family, 4, Plastic 2
So it seems the family doesn't hate me (yet), but rather are entering into the spirit of the Challenge with alacrity.
More fun with family: Today, in the pouring rain, we are off to a family open house and barbecue (perhaps we can eat indoors? she wonders hopefully). I purchased graduation cards a few weeks ago and had planned to buy gift cards to give. However, in light of the Plastic Purge, I decided to enclose old-fashioned checks instead. I have been keeping my used gift cards in the past few months, thinking I could always recharge them with money, and I may yet do that. Otherwise, this is another example of plastic that gets used essentially once, then discarded. I'm thinking that cash or check gifts are a greener alternative — dollar bills, expecially, since they go on being circulated til they fall apart, and are then recycled by the US Mint.
Stay dry, peeps.
PS: SORRY SORRY SORRY about the stupid ads that appear with all the plastic stuff. It's computer-generated. I'm sorry. Really, I am.
Facebook Conversations
comments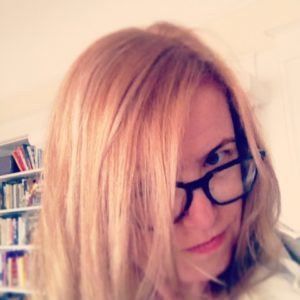 Julia Park Tracey is an award-winning journalist, author, and blogger. She is the author of six books: three novels, one poetry collection, and two women's history. She was the Poet Laureate of Alameda, California, in 2014-17. She's also the conservatrix of The Doris Diaries, the diaries of her great-aunt Doris Bailey Murphy. She has a BA in journalism from San Francisco State University, and MA in Early 20th C. British Literature from Cal State Hayward. Julia's articles have appeared on Salon, Thrillist, Paste, Scary Mommy, Narratively, Yahoo News, Your Tango, and Sweatpants & Coffee. Her articles have also run in Redbook, Woman's Day, Country Living, House Beautiful, Town & Country, the San Francisco Chronicle, Oakland Magazine, Quill, and MadeLocal. She was the founding editor of weekly Alameda Sun and literary zine Red Hills Review. Her poetry has been in The East Bay Literary review, Postcard Poems, Americus Review, Cicada, Tiferet Review, and many others. Julia has been recognized several times by the San Francisco, East Bay and Peninsula Press Clubs as well as the California Newspaper Association for her blogging since 2003.
2 Comments