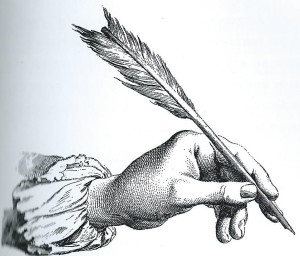 I've come to that cross-road in a writer's life where she has to choose between writing what she wants and writing what earns her bread. It might even be one of those modern five-way stoplights where several roads merge and one must decide whether to turn gently to the right, to join the path ahead, or — most alarming of all — veer to the left and go against the traffic, hoping for a break in the rush to slip across. What to do?
And I think I might go for the difficult and risky choice.
This is absolutely one of those moments where, if speaking to young writers, I might say, "Do as I say and not as I do." Because who would counsel a writer to leave off the path toward Easy and instead push forth into the Difficult? You want success? Don't do this.
But then I think of all the advice given to me, especially in the past few years, about "Follow your bliss," and "Do what you love." Let the angels lead you where they will. I think of the quote from poet Mary Oliver, "I want to think again of dangerous and noble things. I want to be light and frolicsome. I want to be improbably and beautiful and afraid of nothing as though I had wings." Angels, again. So, I think, well, maybe I should. Maybe it's time to chase this.
What is the this? It's a long story, so to speak: My family history, reaching back into long ago when my people first
put foot on American soil. Before it was American. Or after, just a century ago, before two great wars and women's suffrage and Prohibition. I'm looking at my roots, of getting here, of what was left behind and what they came for, and what they achieved, and what it cost. And whom it cost.
So think of slavery and the Trail of Tears. Think of the British Raj and the Industrial Revolution. Think of the Orphan Train, of blood and bones. And — of healing, atonement, and mercy.
Oh, I don't know how to write any of it, either. I'll have to get there and see. But I'm finding myself obsessed with the vision I have for this story, and the possibilities. Maybe I'll give it a year and see what happens.
Maybe I'll be afraid of nothing as though I had wings.
Facebook Conversations
comments