what's good enough for me —
June 16, 2011|Posted in: family, food, frugal, green, plastic
—isn't always good enough for others. I think. I kind of failed as far as plastic and procuring food for The Boy's 7th grade picnic tomorrow (the last day of school, at last!). They were desperate for anything for the kids, and there was low parent participation over this event — the only thing they had was tomatoes. There's something like 150 7th graders. I looked at the food list and volunteered to take brownies, some beverages, hot dogs and buns, and potato salad. I had some potatoes, and figured I'd just grab a package of hot dogs. It's $1 for eight, right?
Heh heh. Sure, for the plastic-wrapped hot dogs, it's $1. Sure, about the same for a plastic bag of bakery buns. Sodas? Juice? Cups? What to do? I went to the regular grocery store, Lucky, again pushing my cart through the aisles with increasing desperation. Can I send glass to a school function? I'd better not — liabilities, middle-school roughhousing, someone will get cut and they won't recycle the glass. Soda is bad for them. So is the fake fruit punch. Real orange juice comes in a gallon but has to be kept cold. Real juice costs a fortune. Water? They didn't ask for water. Water in plastic is a differnt kind of scourge (did you know that 9 out of 10 plastic water bottles are not recycled?)
Round and round went the internal argument. They also need cups. Should I get the plastic cups made of recycled materials? Guaranteed, no one will recycle them afterward. Paper cups? But they come in a plastic bag. I will get aluminum pans for the brownies and potato salad — there are recycled options there. But — oh, no! The aluminum trays are wrapped together in plastic? What if I get this one without plastic? Well, it's a turkey roasting pan. No plastic, but it's way too huge to bake brownies.
What can I get in bulk, to feed a lot of kids, not break the bank, and still avoid plastic? What can I do to minimize the impact, staying true to my cause? Budget, time crunch, other obligations, driving around…
So I compromised. I bought more potatoes, loose from a bin instead of a plastic bag. (They cost about twice as much or more then the plastic 10-lb. bag.) I bought a pack of buns and a pack of hot dogs. I bought two reasonable sized aluminum pans strapped together with plastic. I bought a gallon jug of the least-worst fruit punch I could find (Hawaiian Punch, yuk) and a plastic-wrapped package of paper cups. I plan to mitigate the plastic by removing the plastic bags from the buns, pans and cups, and recycling those myself. I will package everything in foil or waxed paper, in a large paper grocery bag, and deliver it myself to the park, so it will stay cold and won't get too squashed by 13-year-old kids forced to lug supplies. I will add stick-on labels that say PLEASE RECYCLE ME to the juice and aluminum pans. Maybe someone will.
I'm making potato salad and the brownies tonight. But I must confess to pretty grueling feelings of failure and frustration. I have to just stop and step away from the guilt, I guess, because most of this school outing is out of my control. Geez, I can't prevent the world from using plastic! I could have gone to three different places to get exactly the right thing (whole wheat bakery buns, hot dog links, recyclable cardboard cups, or pretty baby unicorn horns). But reality strikes: Who has that kind of time? Who, even the least considerate gas-guzzling tree-hater, can afford to blow money on expensive fuel to go to a couple of different stores for the right thing?
The bottom line for today's adventures is that some times you compromise, make the least-bad choices, and do what you can within your means. I hate — HATE — that my choices are so limited, however. I really hate that I have to choose between money and good food, or good food and perceived fears of hygiene (plastic = "cleaner food" to some people). I wish I could afford to feed a whole class of middle school kids a good meal that doesn't harm the planet or their bodies. I wish, I wish…
Oh, the dreams of a bleeding-heart treehugger. How they flutter in the wind.
Facebook Conversations
comments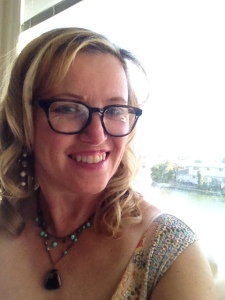 Julia Park Tracey is an award-winning journalist, author, and blogger. She is the author of "Veronika Layne Gets the Scoop" and "Veronika Layne Has a Nose for News" (rep'd by Booktrope). She is the Poet Laureate of Alameda, California. She's also the conservatrix of The Doris Diaries, the diaries of her great-aunt Doris Bailey Murphy. Her articles have appeared in Thrillist, Quill, Paste, San Francisco Chronicle, and in many magazines; her latest poetry appears in The East Bay Literary review.
7 Comments