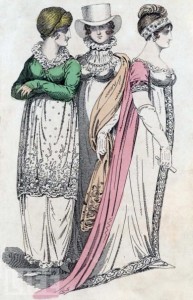 What Would Jane Do? A Literary Pilgrimage
By Julia Park
I've been to England twice before, and to the beautiful Georgian city of Bath in particular, because as a Jane Austen aficionado, a Janeite, if you will, that's what we do. We follow in her footsteps, we look for the Jane connection, and we read each of her six novels (and the juvenilia, the marginalia, and the letters) as if they were travelogues.
Some of them are travelogues of a sort. In Pride and Prejudice, for example, Elizabeth Bennett and her Aunt and Uncle Gardiner plan a tour of the Lakes District, in part to forget about certain young men. "For what are men to rocks and mountains?" Elizabeth proclaims. Indeed. Two of Austen's novels may be read almost as guidebooks to the city of Bath: Northanger Abbey uses Bath as a major locale for its foolish ingénue, Catherine Moreland, and Austen's final completed novel, Persuasion, also takes place in part in Bath.
This time around, I was determined to find Jane Austen in the streets of this cobbled city. I knew that she had lived in several locations around town, when visiting her aunt or other relations. Her father, an Anglican minister, upon his retirement chose Bath as the place he wanted to settle, and the city became Jane's home for some years until his death. They moved house more than once in that time, so finding Jane is more than a mere amble to a set location, much more than just a pit stop and an emptying of pockets in the gift shoppe.
I began my journey to find Jane down at the Pump Room, above the ancient Roman Baths (Stall St., tel +44 [0]1225 477785), built about A.D. 65-75. The adjacent hot spring feeds the baths at a temperature of about 115 ° Fahrenheit. It is worth the time to take the self-guided tour and get a close-up look at the actual green waters of the hot and cool baths. This is where various characters in Austen's novels have been sent to "take the waters" – Persuasion's poor Mrs. Smith, who is crippled by rheumatism, for example; Emma's hypochondriacal father, Mr. Woodhouse, is also recommended to visit by the obnoxious Mrs. Elton.
Above the baths is the elegant 18th-century Pump Room, where you can take refreshment. Enjoy a delicious afternoon tea with finger sandwiches, petit fours, cakes, scones, clotted cream and jam, tea and Champagne. That sounds lovely enough, yes, but to fully appreciate the divinity of this experience, get this: I wanted some more cream (as in, milk) for my tea and asked the waiter, and instead he brought me another bowlful of clotted cream. Clotted cream in a bowl with a spoon in it, and the bowl is a special serving bowl that tilts toward you, so you are actually invited by its very shape to scoop from it.
Well, I had already consumed my scone, thank you, and all the jam, so there was nothing left but to eat the cream with a spoon. It was very, very naughty. But may I just say, in my own defense, that licking clotted cream from a spoon while you watch pigeons fly around the cobbled square and listen to a pianist perform the air from The Sleeping Beauty on a grand piano, in a room where Jane Austen and many of her characters strolled is divine. Simply divine. And what would Jane have done? The same, I am certain.
After eating so much it was a tough call whether to take the waters, to actually drink from the Bath fountain. It's located over in the corner of the Pump Room, with a liveried waiter who will serve you a glass for about 50 pence. The water is warm, a bit cloudy and smells like sulfur, not exactly the after-tea drink I wanted. I decided to save the experience for another day. But fortified by all that pastry, clotted cream and the like, I was ready to brave the seven hills of Bath, and so off I went, clambering up the cobblestones in search of the domiciles I needed to see, to touch some part of Jane's life.
I left the Pump Room and the magnificent Abbey Square, which faces Bath Abbey, with its lace-like fan vaulting and clusters of angels, and walked up Bond Street and Milsom Street, which is where Jane would have shopped. Now there is every manner of better clothing store, as well as electronics, housewares and restaurants. Running parallel to these shopping streets is Gay Street, heading up to the Circus, one of the circular "squares" for which Bath is famous. The Circus is John Wood the Elder's masterpiece of circular building, with a frieze of masks, foliage, magical symbols, musical instruments and wildlife running all the way around. Further up Brock Street is the Royal Crescent, built in the 1760s and 1770s by John Wood the Younger.  Number 1 Royal Crescent (tel +44 [0]1225 428126, closed Dec.-Jan. & Mon. Feb.-Nov.) is done up complete in Austen style, with a sedan chair in the hall, port and pipes in the study, and the cheery kitchen downstairs, to re-create a mid-Georgian atmosphere.
However, I was not so bent on the architecture as the former resident of 25 Gay Street, Miss Jane Austen. The shiny plum-colored door with its polished brass would have pleased her. She lived for a time in the stylish house in 1805, which was up the hill from the River Avon and less prone to damp, but it proved too expensive for a retired clergyman and his wife and two daughters, so after less than a year, the Austens moved to other quarters. I plucked a leaf from a plant in the doorway, a little talisman to press and treasure. I'm sure Jane would have done the same.
My next stop was further uphill, to Number 1 The Paragon. Quite a bit above the rest of the town, the Paragon buildings are tres elegant, at least, they would have been. But residents weren't expecting company, not in the form of a Janeite seeking second-degree relics, and they unkindly left their trash on the stoop. There were no leaves or flowers to press at this shrine, though I searched in vain, so I came away with a small crumble of plaster that had fallen on the ground, unlikely to date from Austen's day. No matter – she hadn't lived at the Paragon, only visited her uncle and aunt, Mr. and Mrs. Leigh Parrot, but the visit in November 1797 inspired Jane to write Northanger Abbey after her return to her home at the rectory in Steventon.
I took a turn around the Royal Crescent and made a stop at the Upper Rooms, which any Janeite can tell you are where Austen went, properly chaperoned, of course, to flirt, dance and meet gentlemen. Here is where Catherine Moreland met Henry Tilney, and where Anne Elliot also spent evenings in Bath society. Is it a coincidence that the street leading up to the Rooms is called Bennett Street? A Janeite thinks not.
The Assembly Rooms (tel +44 [0]1225 477789), built in 1772, feature a long ballroom lit by 18th-century chandeliers, an octagonal card room with a musicians' gallery, and a well appointed tearoom. In the basement is Bath's Museum of Costume (tel +44 [0]1225 477785), featuring modes of dress from various centuries, including Austen's. The exhibits change; there I've seen an exhibition of wedding dresses from the past 200 years, as well as an exhibition of dancer Rudolph Nureyev's costumes and hats, called "Nureyev Style."
From the Upper Rooms it is downhill, at last, toward Queen Square, where the Austens let a house for six weeks in May 1799. Number 13, on the corner, has a terribly English shiny black door, but the current resident, a tax office, steadfastly refused to shut it for a photograph. I was lucky enough to find a pebble to take as a relic for my memories. Jane was pleased with the house: "I like our situation very much; it is far more cheerful than Paragon, and the prospect from the drawing-room window, at which I now write, is rather picturesque, as it commands a perspective view of the left side of Brock Street, broken by three Lombardy poplars in the garden of the last house in Queen's Parade." To think that Jane wrote her letters there, in her own hand, and now nothing but dull accountants and tax attorneys and duller-still clients come to call. It makes one want to weep.
My last stop was a far walking distance away – all the way back toward the Abbey and the River Avon, across the Pultney Bridge and beyond. The Bridge is one of the few in the world that has little shops and office built right into the bridge itself.  It was built in 1769-1774 and if I hadn't been on such an urgent mission to see one last Austen house before departing, I might have paused in some of the many charming shops. But this is Jane we're talking about, so souvenirs and tea cups had to wait.
I walked up Argyle Street and through Laura Place, where the Austens aspired to live but couldn't quite afford, and then down Great Pultney Street to the end, where it meets Sidney Gardens and Sidney Place. The Austens eventually took a house at 4 Sidney Place, which pleased Jane and her sister Cassandra mightily: "It will be very pleasant to be near Sidney Gardens! – we might go into the Labyrinth every day." In Austen's day, there were concerts, strolls and other entertainment to be had in the public gardens, and it is a pleasure to read of her joy and contentment in the house.
Number 4 itself is the only house I saw that commemorates Jane's dwelling with a plaque. As for my own commemoration, I couldn't find a plant or a stone worth collecting, so well kept was the doorway, but I did find a weed in the crevice of the front fence. Pathetic, I know, but it's a weed that was growing in front of Jane's house. Jane's house, I say. What would Jane have done? Enough said.
Walking on cobblestones is not fun but worth it to see St. Jane, anything Jane. The day I went to Bath to see all-things-Jane was the one day the Jane Austen Centre was closed. If you go, however, do stop in and have tea with Mr. Darcy – a portrait of Colin Firth in the Pride and Prejudice role gazes down from the wall and you can enjoy tea and scones as Jane would have. The Centre is located back on Gay Street (40 Gay St, tel +44 [0] 1225 443000) and would be well worth the stop.
There wasn't much to do at the end of Pultney Street, with no concerts or labyrinth to be found, so I returned to the Abbey, and finished my sojourn in search of Jane with a small repast at the oldest house in Bath, the famous Sally Lunn's. There, your dinner is served on trenchers of bread, known as Bath buns or Sally Lunn buns.
Sally Lunn, as the story goes, was a young refugee from the French Revolution who began to bake a rich round bread now known as the Sally Lunn Bun. The "Bath bun" became a popular delicacy in Georgian England and was enjoyed with either sweet or savory accompaniments. To our modern taste, a Bath bun is like a large hamburger bun, not quite the culinary thrill it once must have been. It'll fill you up, or possibly give you a bellyache, as it did Jane, who wrote to her sister that she planned to "disorder my stomach with Bath buns" upon her arrival. A bellyful of Bath buns with a cup of tea seemed an appropriately English was to say farewell to Jane and the beautiful city of Bath, with my treasures in my pocket. I think it's what Jane would have done, too.
Julia Park is a California writer and editor, and, of course, Jane Austen admirer.
Facebook Conversations
comments