Still in Bath
April 26, 2006|Posted in: Uncategorized
Waiting for the train, a block away. Catching up on mail, etc. Alameda seems very far away today. It is.
Last night we ate at Sally Lunn's, in the oldest house in Bath, and our meat came on trenchers of bread. We ate it all. It was yummy. Mia had Cumberland sausages and treacle tart and I had woodland pork and raspberry Pavlova. We had a nice chat with the waiter, who was from Malaga, Spain, and the couple next to us, an older man and wife from York. Lovely people. She gave Mia some travel advice. Enjoyed our conversation v. much. We went to the cinema afterward to see The White Countess, which is a Kazuo Ishiguro story with Ralph Fiennes and Natasha Richardson, also Lynn Redgrave, I think. It was pretty good, about Shanghai just before WWII. Didn't like RF's character much but NR was wonderful — check it out if it comes near you or out on DVD.
I think I've spent most of my allowance, just have a few spots to check in and see in London before exhausting my to-do list: Charing Cross Road, Abbey Road, Primrose Hill, Hampstead Heath, Regent's Park, back to Camden Town for dinner tonight. Maybe the Portrait Museum and/or a lunchtime concert at St. Martin in the Fields. I was able to download all my pix onto a disk at Boots (drugstore) so I haven't lost any photos (knock on wood) from my digital disk. (knock, knock, knock…)
Thanks for comments and notes; nice to hear from you whilst on the road. I don't plan to leave home for a while upon my return, as we are moving (again) this summer. I hope, this time, for good. No more moving! No, not leaving the Island, but moving to a bigger place. Maybe this one will have more than one electrical outlet so I don't have to use extension cords for everything… maybe…more on that as it develops.
Cheers and here is some poetry for your entertainment.
From the Train to Waterloo

I see your gardens.
I see your washing on the line.
I see your flagstone path.
I see your koi pond.
I see your wrought iron table and chairs.
I see your greenhouse.
I see your vegetables springing up in the brick-lined potager.
I see your rosebushes.
I see your topiary hedges and your espaliered flowering quince in bloom.
I see your trampoline.
I see your dpg sleeping on the patio.
I see your custom-designed sunroom. I see your newspapers spread on the table. I see your mug with the spoon still in it.
I see your private life, laid out like tea things on a tray.
Facebook Conversations
comments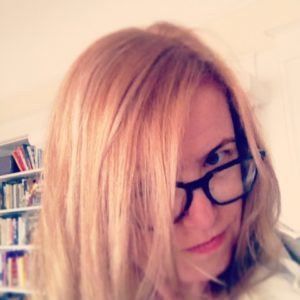 Julia Park Tracey is an award-winning journalist, author, and blogger. She is the author of six books: three novels, one poetry collection, and two women's history. She was the Poet Laureate of Alameda, California, in 2014-17. She's also the conservatrix of The Doris Diaries, the diaries of her great-aunt Doris Bailey Murphy. She has a BA in journalism from San Francisco State University, and MA in Early 20th C. British Literature from Cal State Hayward. Julia's articles have appeared on Salon, Thrillist, Paste, Scary Mommy, Narratively, Yahoo News, Your Tango, and Sweatpants & Coffee. Her articles have also run in Redbook, Woman's Day, Country Living, House Beautiful, Town & Country, the San Francisco Chronicle, Oakland Magazine, Quill, and MadeLocal. She was the founding editor of weekly Alameda Sun and literary zine Red Hills Review. Her poetry has been in The East Bay Literary review, Postcard Poems, Americus Review, Cicada, Tiferet Review, and many others. Julia has been recognized several times by the San Francisco, East Bay and Peninsula Press Clubs as well as the California Newspaper Association for her blogging since 2003.
2 Comments