Um, what else…
April 10, 2007|Posted in: Uncategorized
Lots going on, just not much time to blog it. Roamed the city yesterday, up and down Fifth Ave, and bought a wedding dress (woo hoo!) for me. Gorgeous champagne satin, kind of mermaid-like shape, front flare and ruffle, very fitted and sleeveless, just perfect. And reasonaby priced, which means the shoes can break the bank…Next: Mia's dress — my maid-of-honor. And chatted with the agent, my lovely, with whom I've had e-mail-voicemail-missed connections. Instead of a mtg late yesterday, we're on for lunch tomorrow. It will be raining and/or snowing so I may not look as gorgeous as I'd like (ha) but it's my mind they're after. (Keep telling self that…) Anyway, that's a good sign. Won't know more till after then.
Today: Ana and I walked around the Met and are heading to afternoon tea with Mia at a place called Alice's along Columbus Ave. Her store, Only Hearts, is also along thataway, so we'll get to visit her place of employment. Thrift-vintage stores, too — Ana will be happy. I think she is kind of shocked at how much walking we're doing. Usually on weekends at her dad's, or visits to Grandma's, or even the few times we've traveled, she has gone to one place and stayed there, maybe hit a mall or the movies, but all this walking and subways, cabs, etc? Not so much. She keeps saying how tired she is. Surprise! Travel can wear on you. True revelations: It's wearing on me, too…
Last night we watched about six episodes of Sex and the City while Mia studied. It was funny — sort of sign and signifier in one big bite. We ate the "good bagels" the other day, and also had Tasty-D-Lite, both featured on various episoddes of SITC. Apparently the ladies also shopped at Mia's store. I've never counted myself a fan — when do I ever have time for TV? But I must say, I've been enjoying watching it the past few nights.
Facebook Conversations
comments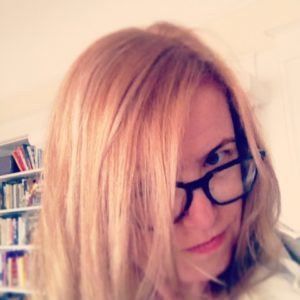 Julia Park Tracey is an award-winning journalist, author, and blogger. She is the author of six books: three novels, one poetry collection, and two women's history. She was the Poet Laureate of Alameda, California, in 2014-17. She's also the conservatrix of The Doris Diaries, the diaries of her great-aunt Doris Bailey Murphy. She has a BA in journalism from San Francisco State University, and MA in Early 20th C. British Literature from Cal State Hayward. Julia's articles have appeared on Salon, Thrillist, Paste, Scary Mommy, Narratively, Yahoo News, Your Tango, and Sweatpants & Coffee. Her articles have also run in Redbook, Woman's Day, Country Living, House Beautiful, Town & Country, the San Francisco Chronicle, Oakland Magazine, Quill, and MadeLocal. She was the founding editor of weekly Alameda Sun and literary zine Red Hills Review. Her poetry has been in The East Bay Literary review, Postcard Poems, Americus Review, Cicada, Tiferet Review, and many others. Julia has been recognized several times by the San Francisco, East Bay and Peninsula Press Clubs as well as the California Newspaper Association for her blogging since 2003.