Cover Reveal for Tess Thompson!
January 31, 2015|Posted in: appreciation, authors, Books, Booktrope, Guest Post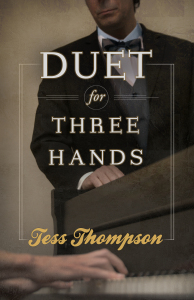 Duet for Three Hands
Author: Tess Thompson
Release Date: February 13th, 2015
Publisher: Booktrope
A story of forbidden love, lost dreams, and family turmoil.
The first book in a new historical series from bestselling author Tess Thompson, Duet for Three Hands is equal parts epic love story, sweeping family saga, and portrait of days gone by. Set against the backdrop of the American South between 1928 and 1934, four voices blend to tell a tale of prejudice, fear, and love. The Bellmonts are the epitome of the rich and elite in Atlanta society, but behind the picture-perfect façade are hidden moments of violence and betrayal.
After marrying into the Bellmont family, Nathaniel, a former concert pianist who is nearly ruined by his wife's unrelenting ambition and unstable mind, finds hope in the promise of his most recent protégé. His brother-in-law, artistic Whitmore Bellmont, and the maid's daughter, Jeselle, have a secret relationship despite their drastically different circumstances and shades of skin. Unfortunately, most of the world disagrees with their color blindness.
All four lives intertwine on a collision course, threatening to destroy, or liberate, them all.
About the Author
Tess Thompson is a mother and writer. She's also a Zumba dancing queen, though the wearing of the crown is reserved for invitation-only appearances. Her creative life began as an actress, director and playwright but found her true calling in narrative fiction, specifically Women's Fiction.
Facebook Conversations
comments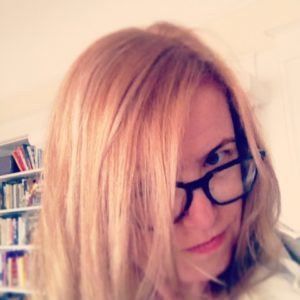 Julia Park Tracey is an award-winning journalist, author, and blogger. She is the author of six books: three novels, one poetry collection, and two women's history. She was the Poet Laureate of Alameda, California, in 2014-17. She's also the conservatrix of The Doris Diaries, the diaries of her great-aunt Doris Bailey Murphy. She has a BA in journalism from San Francisco State University, and MA in Early 20th C. British Literature from Cal State Hayward. Julia's articles have appeared on Salon, Thrillist, Paste, Scary Mommy, Narratively, Yahoo News, Your Tango, and Sweatpants & Coffee. Her articles have also run in Redbook, Woman's Day, Country Living, House Beautiful, Town & Country, the San Francisco Chronicle, Oakland Magazine, Quill, and MadeLocal. She was the founding editor of weekly Alameda Sun and literary zine Red Hills Review. Her poetry has been in The East Bay Literary review, Postcard Poems, Americus Review, Cicada, Tiferet Review, and many others. Julia has been recognized several times by the San Francisco, East Bay and Peninsula Press Clubs as well as the California Newspaper Association for her blogging since 2003.