Plugging In
January 11, 2006|Posted in: Uncategorized
Running around on deadline, kind of back into the routine at the Sun. I spend a lot of time saying, I gotta find me a replacement here, as I'm just sitting in temporarily. Then this morning I got a total charge out of chasing down a story. I really dig on the education stories — no ambulances, no blood, lots of drama and kids' lives and teachers and books. I like it. It was a bit of a charge this morning to chase down this story on deadline and I was, like, digging it. Really. Hmm, I need to think this over a bit.
I'm also working on new stuff for The Music Scene (see current issue for devastiatingly spot-on reviews by your favorite blogger) and good news — my reader, the lovely Ms Laurie W, has finished the pile of subs for Red Hills, so producing that lovely specimen is next.
I am somewhat sidetracked by the boogaloo of jury duty –may I just say, I DON'T want to be on this panel. DON'T. Can't talk about it now (yet) but as the judge was reciting the charges, I just kind of curled up into a fetal position and thought, "I do NOT want this case running around in my head. NOT." Too much bad juju there. I have to go back next week after the attorneys look over our questionnaires and see if I get the boot. Or booted to another case instead. This is what doing your duty is all about. But I hope, I hope I don't have to do this one.
Following Mia's adventures has made me feel nostalgic for London, so I picked up a copy of Bill Bryson's book, Notes From a Small Island, and if you haven't read it, do. It's hilarious — laugh-out-loud-in-public-places-despite-people's-strange-looks funny. Another great one for Anglophiles is Kingdom By the Sea by Paul Theroux, a wonderful walking tour around the coast of Britain and the strange events that occur to him as he walks. And a third old favorite of mine is Susan Allen Toth's My Love Affair with England. Love that one, too. I could go on — absolutely must read 84, Charing Cross Road if you luv England, as mentioned before. And Jane Austen. And George Orwell. And Vita Sackville-West. And Shakespeare… But more another day (my Francophile list is almost as long).
Do you have favorite armchair travel books? Tell me — about any but Under the Tuscan Sun (snark).
Advice to Aspiring Writers: Read, read, read, every day. Good for your writing and good for your soul. And fun with milk and cookies.
Facebook Conversations
comments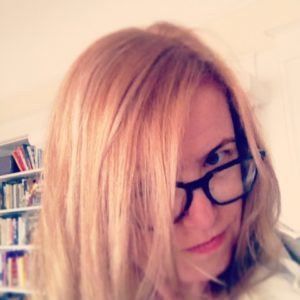 Julia Park Tracey is an award-winning journalist, author, and blogger. She is the author of six books: three novels, one poetry collection, and two women's history. She was the Poet Laureate of Alameda, California, in 2014-17. She's also the conservatrix of The Doris Diaries, the diaries of her great-aunt Doris Bailey Murphy. She has a BA in journalism from San Francisco State University, and MA in Early 20th C. British Literature from Cal State Hayward. Julia's articles have appeared on Salon, Thrillist, Paste, Scary Mommy, Narratively, Yahoo News, Your Tango, and Sweatpants & Coffee. Her articles have also run in Redbook, Woman's Day, Country Living, House Beautiful, Town & Country, the San Francisco Chronicle, Oakland Magazine, Quill, and MadeLocal. She was the founding editor of weekly Alameda Sun and literary zine Red Hills Review. Her poetry has been in The East Bay Literary review, Postcard Poems, Americus Review, Cicada, Tiferet Review, and many others. Julia has been recognized several times by the San Francisco, East Bay and Peninsula Press Clubs as well as the California Newspaper Association for her blogging since 2003.
1 Comment