On the Road: How 10 of My Readings Went Wrong
December 15, 2014|Posted in: appreciation, book biz, Books, indie pub, Portland, The Doris Diaries, Tongues of Angels, Uncategorized, Veronika Layne, work, writing
Ever feel like a schmuck? I have the cure. In no particular order, here are some exciting or dreary adventures that happened to me whilst on the road or giving local readings. Feel better about yourself immediately upon reading!
The bookstore owner giving the reading got my name wrong, my genre wrong, and said the novel (Tongues of Angels) was self-published when it small-press-pubbed. I may have been in the wrong place at the wrong time. (Read more about this memorable event here.)
The Portland bar that was supposed to premiere the Rebel Girl cocktail for the Doris Diaries debut forgot and did not buy any of the ingredients. Disappointing, after much ado, publicity, hoopla and advertising. Luckily, they had other alcohol. Lots of it.
A second bar later on the same tour also did not buy the ingredients for the drink, and the owner was sick, leaving his right-hand man, a waiter, in charge. The right-hand man was annoyed at having a reader in the restaurant and only grudgingly set up the mic. He then stood in front of me, blocking me from the audience, as I was reading, and later, yelled at me in French from the back of the room. Yes, I was heckled in French in a Mexican restaurant in Arizona.
A city library had zero attendees for my reading. I had bought advertising in the town ahead of time, sent flyers around, PRed like crazy, and so did the library. Two librarians came and listened to my presentation. We all felt like schmucks.
I basically had to change my entire poetry reading at the podium because someone had brought impressionable children, just old enough to ask questions. The selection I had prepared was a romantic/sexy set of poems, and – I just couldn't do sexy talk in front of the kids. Awkward? Yes.
I pride myself on my vintage costumes when reading from The Doris Diaries. At a local reading for the first volume, I've Got Some Lovin' to Do, I wore a lovely green ensemble, authentic from underpinnings outward. When I took my seat, I heard seams tear, I felt elastic give, and suddenly I was a sausage bursting its casing. With 50 people watching. #Sexy? You betcha.
At another reading soon after, I wore a different vintage dress, less sausagy, but with some beautiful ribbon scrolls all around the skirt. As I waited for the reading to begin, I sat at a table and signed books. When I rose to go to the platform and read, the ribbonwork caught on the arm of the captain's chair and tore out the back of the dress. I kept my front to the audience and kept smiling, despite the draft.
I prepared a standard bio for the bookstore host to read in introducing me, but he scrapped that and instead, rewrote it in rhyme form (not his strong suit). I have blanked out most of the words, but what still haunts me is that final jarring line: "She's always racy – Julia Park Tracey." #fml
I gave a poetry reading and had brought along my book, Amaryllis, for sale. As I grabbed one of them to sign, the book flipped open and I realized that the innards of the book were wrong. The inside sections were put together incorrectly, and the poems and acknowledgements were mixed up. Obviously a mistake at the printer – five years ago. I wonder in horror how many of those have been sold. #thingsthatkeepmeupatnight
The time I was on tour, taking Amtrack from city to city, and the crew got my suitcase off the train but not my books. That's right. Book store, no books. Ring this up: No sale.
I'm not done writing books or giving readings, so I expect I'll have more adventures to add to this list in the next few months. (I'm in the throes of promoting Veronika Layne Gets the Scoop as we speak.)
In the meantime, be glad you're not me.
Facebook Conversations
comments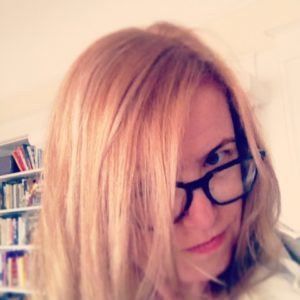 Julia Park Tracey is an award-winning journalist, author, and blogger. She is the author of six books: three novels, one poetry collection, and two women's history. She was the Poet Laureate of Alameda, California, in 2014-17. She's also the conservatrix of The Doris Diaries, the diaries of her great-aunt Doris Bailey Murphy. She has a BA in journalism from San Francisco State University, and MA in Early 20th C. British Literature from Cal State Hayward. Julia's articles have appeared on Salon, Thrillist, Paste, Scary Mommy, Narratively, Yahoo News, Your Tango, and Sweatpants & Coffee. Her articles have also run in Redbook, Woman's Day, Country Living, House Beautiful, Town & Country, the San Francisco Chronicle, Oakland Magazine, Quill, and MadeLocal. She was the founding editor of weekly Alameda Sun and literary zine Red Hills Review. Her poetry has been in The East Bay Literary review, Postcard Poems, Americus Review, Cicada, Tiferet Review, and many others. Julia has been recognized several times by the San Francisco, East Bay and Peninsula Press Clubs as well as the California Newspaper Association for her blogging since 2003.
4 Comments