Minor mishaps, monetary and otherwise
June 8, 2010|Posted in: Uncategorized
Sunday we were tootling along working in the yard, mowing, raking, painting, scrubbing, etc. It was hot, and then I said, in a wishful sort of way, "Man, I'd love a tall, ice cold Pepsi right now," and then someone — it may have been me, or someone who looked just like me — said "Mmmmmm, Taco Bell," and the others jumped aboard the train and….there I was driving across town to order Taco Bell for four of us. It set me back $25.
Fast food is not part of the FS budget because you can't buy it with FS — but it does come out of our real budget. 25 bucks! Yeesh. And I had that pot of corn chowder already waiting for us for lunch. Doh!
I was mulling and feeling guilty over this vast breach of trust in the JFSC, and how was I going to break it to my blog readers, and meanwhile, my 19 y.o. daughter says she's going to make dinner. I had a FS dinner planned but I was so tired after all that yardwork and guilt-tripping that I said go ahead. Ummmmmm….. yikes!
She had the Barefoot Contessa cookbook out (yes, that very one right there) and was creating a huge homemade macaroni and cheese with a lavish hand to the milk, cheese, pasta and fresh tomatoes. She had grated a mountain of cheese, filled a pot with a quart of milk, etc. She made a ginormous extravagant mac and cheese casserole because she wasn't used to cooking and had no idea how big a 3-quart casserole dish was. I thought I was going to skip groceries this week because we had plenty of milk and cheese…ha ha. So while I was outside fretting over my descent into fast food hell vis a vis the JFSC, my daughter was inside, destroying our budget from within by cooking extra rich, huge casserole with ALL OUR CHEESE.
It wasn't the fast food that killed us this week. It was the Barefoot Contessa and her womanly wiles. I guess the food stamp gods were having a little laugh at my expense. Ha. Ha.
As you can see below, however, the Taco Bell visit was by far the worse sin. And to be honest, it looks like a very real misstep on the food budget journey. When we're short of funds later in the month, that instant decision may come back to haunt us.
Sunday Menu
 
Breakfast: Toast, jam (Mom's), fresh fruit, coffee ($0.50 per person)
Lunch: Taco Bell ($25 = $6.25 per person for this meal)
Dinner: Homemade macaroni and cheese (pasta from pantry), fresh cut veggies, ice tea ($2.25 per person)
 
Monday Menu
 
Breakfast: Cereal, milk, coffee
Lunch: Patrick: leftover mac and cheese, salad;  Julia: leftover corn chowder, peach, cookies (the stale ones I didn't make into crumbs yet)
Snack: plum, a spoonful of peanut butter, coffee
Dinner: BBQ chicken (frozen last week in bag), corn on the cob (more from last week), green salad
 
Today, Tuesday, is my shopping day, so I'll report back on how the budget is going, what we ate and will be eating on this week's JFSC. And another rant I've been working on. Stay tuned.
Facebook Conversations
comments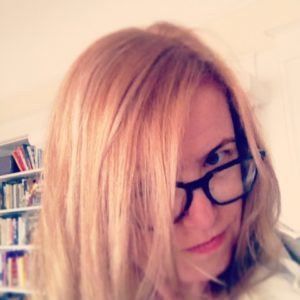 Julia Park Tracey is an award-winning journalist, author, and blogger. She is the author of six books: three novels, one poetry collection, and two women's history. She was the Poet Laureate of Alameda, California, in 2014-17. She's also the conservatrix of The Doris Diaries, the diaries of her great-aunt Doris Bailey Murphy. She has a BA in journalism from San Francisco State University, and MA in Early 20th C. British Literature from Cal State Hayward. Julia's articles have appeared on Salon, Thrillist, Paste, Scary Mommy, Narratively, Yahoo News, Your Tango, and Sweatpants & Coffee. Her articles have also run in Redbook, Woman's Day, Country Living, House Beautiful, Town & Country, the San Francisco Chronicle, Oakland Magazine, Quill, and MadeLocal. She was the founding editor of weekly Alameda Sun and literary zine Red Hills Review. Her poetry has been in The East Bay Literary review, Postcard Poems, Americus Review, Cicada, Tiferet Review, and many others. Julia has been recognized several times by the San Francisco, East Bay and Peninsula Press Clubs as well as the California Newspaper Association for her blogging since 2003.
2 Comments