I'm heading south and east this week to dig into some family history, the in-person research I can do only in person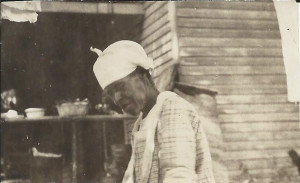 in Alabama. I'll be staying in Jasper, with forays into Birmingham and down to Alexander City and Hackneyville. Part of the research will be digging into libraries and part will be driving around to see the environs where my forebears were slaveholders.
I've found what I could find on Ancestry.com and at my local library; I have looked through old photo albums (hence the photo of Ole Mary washing clothes, from about 1915; it's very possible she was a former slave). I have purchased deed-mapping software and found information in the strangest of corners online, but nothing beats feet on the ground.
I've never been to the south before. The furthest south I've been is Charlotte, Virginia, to visit a former relative by marriage, and to Baltimore. But I'm talking deep south, this Alabama journey, into the Black Belt where cotton was king. It's a new experience for a California native — and part of my evolution. The paradox of moving forward is going backward, to see where I came from, which will help steer me ahead.
In the summertime when I was a child, we had lots of farm chores to do, especially before we went off to play. When I was about 12, my mother left a list of chores for us, and mine was to clear some weeds from the garden. I took the shovel, and I dug and sweated and shoveled, turning over the dirt, breaking a whole new row, fresh soil with no weeds. It took me about two hours in the hot sun to break that row. When I finished, I was so hot and tired I didn't want to go out and play with a friend.
When my mom got home later that evening she said I hadn't pulled the weeds.
"Yes, I did — look!" I showed what I had done.
But she shook her head, and showed me where the weeds were still standing in the rows already planted. What I could have done in ten minutes — pull the weeds and be on my way — I had not seen, had missed altogether. I still had to pull those weeds the next day — but I had broken ground, made the garden bigger.
Somewhere in there is a metaphor for privilege — just pulling a few weeds and skipping away, when someone has done all the work of breaking the soil, throwing the rocks aside, making it friable and fine enough for seed. I've done it both ways, the easy and the tough, and believe me, it was galling to think how hard I had worked when I could have had it easy. I imagine if I always did the hard part and someone else always did the easy job, I would be pretty fed up.
Am I a good person? Am I in integrity with my roots, with my future actions? Am I standing on the backs of others who broke the path? Enjoying the fruits of someone else's labors? Am I bold enough to tell the story I find, regardless of what it is? Of how, or whom, it hurts?
I have many thoughts going through my mind as I prepare for this first venture into the past. But consider this a vow: Whatever I find, I'll write about it, unflinchingly. I hope to tell it well enough so you want to read it, too.