preservationista
July 24, 2010|Posted in: chickens, food, frugal, garden, green, My little city farm, summer, sustainable living
So — what's in your freezer? Been busy on the home front, taking care of produce and other food items that come our way. The dehydrator continues, nonstop, drying apples today. Yesterday I dried a few of the farmers' market nectarines and plums, plus most of a flat of strawberries. They dry nice and chewy and sweet — the best "gummy" fruit you ever had, since it is pure sliced fruit through and through. No preservatives, either. Kid-tested, and she said, "Mmm." I'm gonna buy another flat of strawberries to dry before the week is up, if I can.
I just processed a couple of quarts of green beans for the freezer (wash, trim, cut to length, quick blanch over boiling water, quick plunge into cold water, drain, Ziploc, freeze). Then I started on the corn. I'd put it off because I remembered it as being rather a pain in the *ss, and when I started stripping back the husks, a couple of the ears were mushy. (Instant chicken food, see photo below.) However, it took just 10 ears of corn to fill a gallon Ziploc bag, and was not that big a chore after all. I buy 2 or 3 of these commercially processed big bags per year, so I'm considering freezing another bunch or two and not buying any commercially produced corn in the coming year. I know this corn has fewer than 20 food miles on it (Brentwood, CA), was organically grown by a local farmer, and was not monkeyed with during preservation, except by me. I know its heritage, in other words. And when you're talking about the food you put into your mouth and your family's mouths, where it comes from and who touched it is important. Really, really important.
This is what my freezer looks like now. You see frozen bread (freebies from my bread site), a couple of bags of store-bought frozen veg (bulk buys), ice cubes, and in the bottom bin, you see several ears of corn frozen in their husks. Later in the year we'll soak these and put them right on the barbecue. Nothing fancy with this freeze-job — no plastic needed. There's also a baggie full of coffee ice cubes. Drop these into soy milk or regular milk, or your iced coffee, and maybe add a squirt of chocolate syrup. Yep. That's a good way to use up the old coffee. slurp.
After I froze the corn and the beans, and sliced the apples to dry, I also froze a bunch of
berries
. I am doing a handful a day, what comes off my little blackberry, raspberry and strawberry plants. Enough for cereal for one day, but accumulated, I will eventually have enough for a batch of mixed berry jam, or a couple of pies. I yearn for that day…Thus far I have about a half gallon of mixed berries saved. Thanks to my friend
Edwina
for a gift of a pint of blackberries yesterday, picked from her yard
(blows kisses).
My next project was to save some of the slightly stale bread that I got from the free site. I had several baguettes and sliced them thinly. Toasted them in the oven, low heat (200F) for about an hour. Magically, they became
crostini
. Perfect for eating homemade hummus, or fire-roasted red and green peppers, or Sonoma goat cheese and chopped olive tapenade. Floating in a bowl of thick soup with melted cheese on top. Crunching with smoky cheese and hearty salumi and a fruity red wine. Good stuff. Nothing wasted, either.
 The sad thing is that after all of this, I had to clean up the kitchen. For some reason, the little elves who make shoes or spin straw into gold don't visit me. Ever. What's up with that? Kitchen counter looked like this.
But the chickens were happy with all the scraps. Ends of beans and tops of strawberries and cut-out brown spots from apples and especially corn husks and cobs — holy Toledo. That's good stuff, they said. And then they happily produce eggs with yolks as yellow as a yield sign. Good stuff for the peoples, too.
Tomorrow: Plums going soft. Rhubarb wilting. Marry them in the Crock Pot with sugar and SureJell and go out for the day. Come home and ladle into jars. More apples to dry. Zucchini to pick. Eggs to gather. And words to write…
Facebook Conversations
comments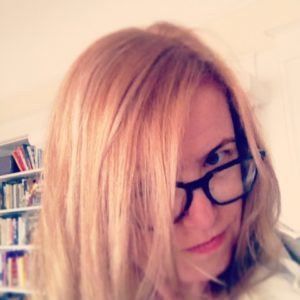 Julia Park Tracey is an award-winning journalist, author, and blogger. She is the author of six books: three novels, one poetry collection, and two women's history. She was the Poet Laureate of Alameda, California, in 2014-17. She's also the conservatrix of The Doris Diaries, the diaries of her great-aunt Doris Bailey Murphy. She has a BA in journalism from San Francisco State University, and MA in Early 20th C. British Literature from Cal State Hayward. Julia's articles have appeared on Salon, Thrillist, Paste, Scary Mommy, Narratively, Yahoo News, Your Tango, and Sweatpants & Coffee. Her articles have also run in Redbook, Woman's Day, Country Living, House Beautiful, Town & Country, the San Francisco Chronicle, Oakland Magazine, Quill, and MadeLocal. She was the founding editor of weekly Alameda Sun and literary zine Red Hills Review. Her poetry has been in The East Bay Literary review, Postcard Poems, Americus Review, Cicada, Tiferet Review, and many others. Julia has been recognized several times by the San Francisco, East Bay and Peninsula Press Clubs as well as the California Newspaper Association for her blogging since 2003.
2 Comments