news and notes, Day 27 (with a video!)
June 27, 2011|Posted in: Challenge Update, frugal, green, plastic, sustainable living
It's been 26 days of living without plastic, or trying, and it's all good. Here's some of what's going on. I wrote to the Bear River Valley cereal people, who make delicious natural cereals and have a lot of info about green energy and how they purchase credits to offset their manufacturing. That's awesome news, and I want to support the company. Here's the gist of their response about plastic packaging on their cereals:
   "…When it comes to the packaging of our products, our first priority is to provide consumers with safe and fresh products. The polyethylene bags we use provide our customers with wholesome, quality products without the high cost of packaging materials. We currently use the lowest density poly material proven to keep our cereals safe and fresh. Unfortunately, this poly material is not recyclable and therefore, does not have a recycling symbol. We continue to review any new packaging materials that become available to us.
   "You may also be interested to know that we take environmental issues very seriously. We are committed to the use of renewable energy. We have active programs in place to reduce energy consumption and minimize water use. We also work with our suppliers, the government and the community to continuously search for ways to improve our own recycling efforts.
   "We certainly appreciate and share your concern for the environment. Your comments regarding the packaging were shared with our Marketing and Packaging Departments…"
So there you have it. If my rubric is to use no plastic, then I can't purchase this cereal. The bags they come in, while less than the packaging you'd find on most other cereals, are here for eternity in landfill. Would you buy this cereal? I *love* their ethics. I *love* what they are trying to do. But isn't there something they can do about the plastic? I very, very reluctantly have to say no to them, based on the plastic issue. And I'm sad to say so, because their cereals are also delicious. Poo.
In other no-plastics excitement, I painted a chair and did some decoupage over the past week, and instead of my usual (and much used) plastic drop sheet, I used an old bedsheet instead. It absorbed the paint and the glue and the projects did not stick to it. I believe the bedsheet can be used many, many times over again, and eventually will still decompose in landfill, though that begs the question about using paint that is unnatural in composition. Perhaps my next project will be to investigate natural pigments and milk paints. In the meantime, I'm using paint from my stash from Freecycle and redecorating on the fly.
I've been accompanying my daughter who is outfitting herself for a new apartment later this summer. We've been trolling the thrift stores looking for housewares. Along the way I've found a few items that further my no-plastics venture. Those include a fabric shower curtain that can be washed and reused many times over. If you've ever had a plastic/vinyl, shower curtain, you know that they are a mildew magnet, unless you spray them with a toxic anti-mildew spray every single day. If you try to wash them, they tend to tear. The ring-holes also tend to tear, especially if you have A Boy who thinks it's a gymnastics event to get into and out of the tub. The kids never leave the curtain open to drip-dry so mildew creeps in even faster. You end up with a grody plastic shower curtain that you throw in the garbage because how could it be reused? Then you buy a new one that is so stinky with VOCs (that's poisonous fumes, in the vernacular) for several days, and then the cycle starts again. I switched to fabric shower curtains a couple of years ago and have never looked back. They can be rewashed, and repaired on the sewing machine if necessary. We needed a shower curtain for our new Green House that I mentioned recently, so I was glad to find one for the same price as a cheap vinyl one ($3.99).
I also found a tall glass canister to store spaghetti, which means I can buy my pasta in bulk and have the right kind of jar to store it. I was also tickled to find a cheese dome, with a wooden base for slicing the cheese. The dome is glass and holds a nice seal against the air, so the cheese won't harden up. This completely eliminates the need for plastic wrap or Tupperware for cheese. I almost bought more than one of these but restrained myself. One is plenty.
It sounds like I've been shopping like a 5th Avenue diva but honestly, not at all — these three items cost me less than $10 in total and I didn't buy even one Prada bag or pair of $500 shoes. (Although my daughter did find a designer purse at ThriftTown and was very happy about it.)
I'll leave you with this today:  A dear friend (thanks, Katje!!) posted this on my Facebook wall — watch it at your leisure — but it's lots of fun about canvas bags, by Brit comedian-songster Tim Minchin… so how many words rhyme with plastic?
http://www.youtube.com/watch?v=EVh15aUt8-c
Facebook Conversations
comments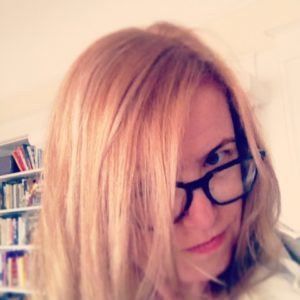 Julia Park Tracey is an award-winning journalist, author, and blogger. She is the author of six books: three novels, one poetry collection, and two women's history. She was the Poet Laureate of Alameda, California, in 2014-17. She's also the conservatrix of The Doris Diaries, the diaries of her great-aunt Doris Bailey Murphy. She has a BA in journalism from San Francisco State University, and MA in Early 20th C. British Literature from Cal State Hayward. Julia's articles have appeared on Salon, Thrillist, Paste, Scary Mommy, Narratively, Yahoo News, Your Tango, and Sweatpants & Coffee. Her articles have also run in Redbook, Woman's Day, Country Living, House Beautiful, Town & Country, the San Francisco Chronicle, Oakland Magazine, Quill, and MadeLocal. She was the founding editor of weekly Alameda Sun and literary zine Red Hills Review. Her poetry has been in The East Bay Literary review, Postcard Poems, Americus Review, Cicada, Tiferet Review, and many others. Julia has been recognized several times by the San Francisco, East Bay and Peninsula Press Clubs as well as the California Newspaper Association for her blogging since 2003.
3 Comments