Catching Up (As If…)
October 13, 2005|Posted in: Uncategorized
Actually, it's impossible this time of year. Alameda Literati is a mere three weeks away (check it out at www.alamedaliterati.org — it changes up every few days) and I've been chasing down the details every spare hour. That means a couple of hours every night and lots of weekend time. I was sick twice in three weeks, each for 3-4 days, so that really put a cramp in my style. But back at it.
Details, you ask? Like what? Like ordering the bounce house, like soliciting donations for the goodie bags and raffle table, like scheduling the speakers, like remembering to borrow the microphones, like asking for volunteers and getting much less response than I'd like to hear, like the various paper-bits I need to create, such as the teen writing contest info, the mini-flyers for coffee houses and bookstores, like distributing the posters into store windows, like running over to the site and checking out how many outlets, is there a chalkboard, how many chairs and tables do we have and how many to rent, how's my budget looking, I'll just pay for this myself, and oh, by the way, that credit card is full.
Who sleeps anymore? I mean, what the hell?
If you're in the East Bay area, come to a pre-Literati event Tuesday. Oct. 18, at delightful Italian restaurant/enoteca C'era Una Volta (1332 Park St. Alameda), at 7 p.m. It'll be a short but sweet evening of music and fabu poetry — half an hour of guitar, five minutes of Andy Crockett (great Alameda poet), five minutes of me (well, you know all about me, cough cough) and 20 minutes of Dan Brodnitz, one of my favorite local poets. That's it — plus wine and bruschetta if you have a couple of bucks. Yum. Quick culture bites — how about that?
What else? Nov. 28 is the spiritual reading at First Pres — more details to follow — I still need to organize the readers, and since (say it with me) Literati is kicking my ass, I haven't done that yet. Yep, slacking off, fer sure.
The next issue of Red Hills Review is imminent — and ALSO kicking my ass. Can I get it read, laid out and printed before Literati? Only my hairdresser knows for sure. Check this space for either the sound of one hand clapping, my gutteral scream or, maybe, the proud announcement that YAY, it's out! Issue #3, Winter 2005.
And, not to be forgotten or trifled with, coming this winter quarter at the Alameda Adult School, I'll be teaching a weekly class on Thursdays, 7-9 p.m., on Reading Harry Potter for adults. Lots of literary background, themes, politics, symbolism and allusions. If you're a Harry Potter fan, check it out. It's a 10-week course beginning Dec. 8 with two weeks off in the middle for Christmas holidays. Not sure of the price but probably $50-$70 at ARPD.
And what else? Um, there's more — job stuff, changes imminent, but I'll post it when there's news.
Other news: My little brother and his family are coming out for Christmas from New Jersey — whee! Can't wait to see my baby nephew Brendan and darling neice Abby Rose. And sister-in-law Amanda, too. My eldest, Mia, is heading to London after Christmas for a semester abroad (great fun for a theater major) so Mr. Fabulous Unhusband and I are going over there to visit at Easter (we hope). Sick kids are also keeping me busy these days (with four underfoot, one person's sniffles become an epidemic pretty easily). Lots more to post but it'll have to wait till Literati stops KMA.
In the meantime, get ready to get lit.
Advice to Aspiring Writers: Catching up is sometimes impossible.
Facebook Conversations
comments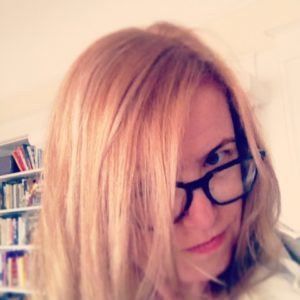 Julia Park Tracey is an award-winning journalist, author, and blogger. She is the author of six books: three novels, one poetry collection, and two women's history. She was the Poet Laureate of Alameda, California, in 2014-17. She's also the conservatrix of The Doris Diaries, the diaries of her great-aunt Doris Bailey Murphy. She has a BA in journalism from San Francisco State University, and MA in Early 20th C. British Literature from Cal State Hayward. Julia's articles have appeared on Salon, Thrillist, Paste, Scary Mommy, Narratively, Yahoo News, Your Tango, and Sweatpants & Coffee. Her articles have also run in Redbook, Woman's Day, Country Living, House Beautiful, Town & Country, the San Francisco Chronicle, Oakland Magazine, Quill, and MadeLocal. She was the founding editor of weekly Alameda Sun and literary zine Red Hills Review. Her poetry has been in The East Bay Literary review, Postcard Poems, Americus Review, Cicada, Tiferet Review, and many others. Julia has been recognized several times by the San Francisco, East Bay and Peninsula Press Clubs as well as the California Newspaper Association for her blogging since 2003.