beyond the house
October 10, 2011|Posted in: family, The Doris Diaries, work, writing
Doris, age 16, in 1926, with her Aunt Mae, left.
Hey, loyal followers — just wanted to post a link to my current project. Since my Great Aunt Doris passed away in March 2011, I inherited her journals, and have since been transcribing and compiling them for posterity. Fabulous funny stuff from a rebellious teenager in the Roaring 20s, spirited entries from a stubborn college girl in the Great Depression, and delicious posts from an independent young woman arriving in San Francisco on the eve of World War II.
Love, laughter, cocktails and lovers — it's all there.
I may not be posting at the Muse for a while as the Doris Diaries gets on its feet as a project, so do check in at the following sites:
The Doris Diaries: Complete diary entries with photos and history
Daily tweets in Doris's own words on Twitter
Funny Facebook posts on her own fan page
Want to chat? Drop me a line at my own email address (posted in my profile at right).
Thanks for the love and I'll be back here in a little while — with more house photos and green stuff.
Doris in her 80s with me and my daughters, Occidental, CA.
Facebook Conversations
comments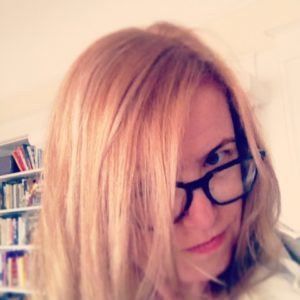 Julia Park Tracey is an award-winning journalist, author, and blogger. She is the author of six books: three novels, one poetry collection, and two women's history. She was the Poet Laureate of Alameda, California, in 2014-17. She's also the conservatrix of The Doris Diaries, the diaries of her great-aunt Doris Bailey Murphy. She has a BA in journalism from San Francisco State University, and MA in Early 20th C. British Literature from Cal State Hayward. Julia's articles have appeared on Salon, Thrillist, Paste, Scary Mommy, Narratively, Yahoo News, Your Tango, and Sweatpants & Coffee. Her articles have also run in Redbook, Woman's Day, Country Living, House Beautiful, Town & Country, the San Francisco Chronicle, Oakland Magazine, Quill, and MadeLocal. She was the founding editor of weekly Alameda Sun and literary zine Red Hills Review. Her poetry has been in The East Bay Literary review, Postcard Poems, Americus Review, Cicada, Tiferet Review, and many others. Julia has been recognized several times by the San Francisco, East Bay and Peninsula Press Clubs as well as the California Newspaper Association for her blogging since 2003.
1 Comment