land of the living
October 25, 2007|Posted in: Uncategorized
Back into the real world, despite my second bad cold of the season (which started Sept 1 for me, I think), and a case of itchies in all the raw places (inside elbows, behind knees, inside wrists, back of neck, lower side-back, throat under ears…lovely). I ended up missing Sunday-Wednesday, a half-week right in the deathmarch before Literati, and ack, ack, ack, I am on the verge of panic. But who cares? It will be OK. Right? Right?
Movies watched = zero. I've seen most of them and couldn't get inspired enough to re-watch anything, not even Jane Austen.
Books read = Desire of the Everlasting Hills by Thomas Cahill; Odds Against and Whip Hand by Dick Francis, plus started another – Longshot; finished The Gospel According to Jesus by Stephen Mitchell; looked at about six other books and couldn't get excited about any of them. So horse-racing mysteries and books about Jesus. What gives? Call it delirium. Or a way to ponder life's unanswerable mysteries. Like why I hate mysteries, sort of, but love Dick Francis. Like why I'm not that keen on horses, since being nearly killed by one, but I find the horse-racing adventures (with death and mayhem in hot pursuit) enjoyable. Did I mention that I've read ALL of these books before? So none of this was even new to me.
But there you go. Sick reading for a sick, sick woman.
Episodes of CSI watched = a couple more. I also saw a couple of espisodes of "House" (the mean doctor guy). And part of a special on Costa Rica's crocodiles. Gotta luv Animal Planet.
Advil consumed = far too many, with a cracking headache that lasted for 4 days. But I've lived. Now stop that cheering. You knew I was gonna live anyway.
Teabags used = half as many as cups of tea consumed, because I used them all twice. Favorite flavor this time around = spiced chai. Yum.
Brain cells left to work on ALameda Literati = 27
Days left to work on Alameda Literati = 9-ish
Days until I start working on Literati 2008 = 10
Back to the salt mines…
Facebook Conversations
comments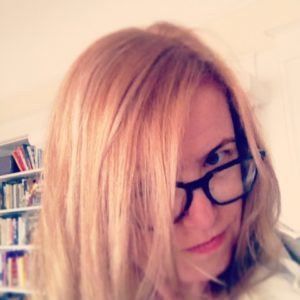 Julia Park Tracey is an award-winning journalist, author, and blogger. She is the author of six books: three novels, one poetry collection, and two women's history. She was the Poet Laureate of Alameda, California, in 2014-17. She's also the conservatrix of The Doris Diaries, the diaries of her great-aunt Doris Bailey Murphy. She has a BA in journalism from San Francisco State University, and MA in Early 20th C. British Literature from Cal State Hayward. Julia's articles have appeared on Salon, Thrillist, Paste, Scary Mommy, Narratively, Yahoo News, Your Tango, and Sweatpants & Coffee. Her articles have also run in Redbook, Woman's Day, Country Living, House Beautiful, Town & Country, the San Francisco Chronicle, Oakland Magazine, Quill, and MadeLocal. She was the founding editor of weekly Alameda Sun and literary zine Red Hills Review. Her poetry has been in The East Bay Literary review, Postcard Poems, Americus Review, Cicada, Tiferet Review, and many others. Julia has been recognized several times by the San Francisco, East Bay and Peninsula Press Clubs as well as the California Newspaper Association for her blogging since 2003.