POETRY. Deal with it.
March 12, 2009|Posted in: Uncategorized
Here are photos from last night's launch and reading of Amaryllis: Collected Poems. HOO-HA!
Some of the feral teens read their poetry in slam-fashion as the opening act. Vinnie (top) and Ian (below).
Sarah (in purple top)
Mr. Husband was MC for the evening. He ad-libbed a totally fictional bio for me that included my stint in the French Foreign Legion, my career as a professional break dancer in the '80s and one of the original Fly Girls, and how I learned about poetry when I was in prison. According to the bio, I have never married and have no children.
Of course, Mr. Husband slept on the couch last night.
Just kidding. Look at me laughing at his antics. Simone (Daughter #2) sold books for me. She rocks!
Facebook Conversations
comments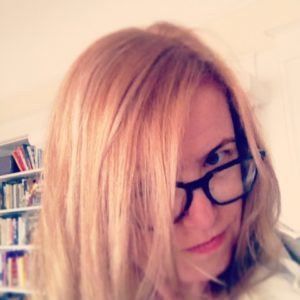 Julia Park Tracey is an award-winning journalist, author, and blogger. She is the author of six books: three novels, one poetry collection, and two women's history. She was the Poet Laureate of Alameda, California, in 2014-17. She's also the conservatrix of The Doris Diaries, the diaries of her great-aunt Doris Bailey Murphy. She has a BA in journalism from San Francisco State University, and MA in Early 20th C. British Literature from Cal State Hayward. Julia's articles have appeared on Salon, Thrillist, Paste, Scary Mommy, Narratively, Yahoo News, Your Tango, and Sweatpants & Coffee. Her articles have also run in Redbook, Woman's Day, Country Living, House Beautiful, Town & Country, the San Francisco Chronicle, Oakland Magazine, Quill, and MadeLocal. She was the founding editor of weekly Alameda Sun and literary zine Red Hills Review. Her poetry has been in The East Bay Literary review, Postcard Poems, Americus Review, Cicada, Tiferet Review, and many others. Julia has been recognized several times by the San Francisco, East Bay and Peninsula Press Clubs as well as the California Newspaper Association for her blogging since 2003.