mice on wheels
June 22, 2010|Posted in: food, Food Stamps, The World as We Know It
Ever notice how you learn a new word, then hear it everywhere you go? When you're pregnant, all you see is pregnant women walking the streets or moms pushing strollers? You're thinking of going to Paris, and suddenly every newspaper, TV station and poster has something to do with France?
In recent weeks, it seems that poverty, welfare and hunger have permeated my brain. And I keep overhearing snatches of conversations. Yesterday the clock radio went off really early — maybe 5 a.m. From a dead sleep, I heard a man say, "Well, those deadbeats on welfare don't want to get their hands dirty when they can stay home drinking and smoking cigarettes." Huh?
At the grocery store the other day I heard both of these comments: "We have more food than we know what to do with," and "We have nothing to eat at home" (the latter of which seemed unlikely to be true, from a glance at the speaker).
The things people say. The things they think. The way we talk. The way we eat. The things we throw away. The thoughtless statements that fall from our lips. The crumbs we leave, or do not leave, for others.
I could make mincemeat out of all of these statements, and probably will, later. But I post this short blog this morning with the request that you think about your food security today, and then spare a thought — just one — for someone who might not have as much as you, and how you would feel in that position. And how you would feel if you heard opinions stated as facts on the radio that seemed directed at you, when you were struggling.
Facebook Conversations
comments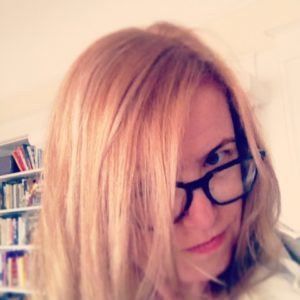 Julia Park Tracey is an award-winning journalist, author, and blogger. She is the author of six books: three novels, one poetry collection, and two women's history. She was the Poet Laureate of Alameda, California, in 2014-17. She's also the conservatrix of The Doris Diaries, the diaries of her great-aunt Doris Bailey Murphy. She has a BA in journalism from San Francisco State University, and MA in Early 20th C. British Literature from Cal State Hayward. Julia's articles have appeared on Salon, Thrillist, Paste, Scary Mommy, Narratively, Yahoo News, Your Tango, and Sweatpants & Coffee. Her articles have also run in Redbook, Woman's Day, Country Living, House Beautiful, Town & Country, the San Francisco Chronicle, Oakland Magazine, Quill, and MadeLocal. She was the founding editor of weekly Alameda Sun and literary zine Red Hills Review. Her poetry has been in The East Bay Literary review, Postcard Poems, Americus Review, Cicada, Tiferet Review, and many others. Julia has been recognized several times by the San Francisco, East Bay and Peninsula Press Clubs as well as the California Newspaper Association for her blogging since 2003.
2 Comments