Don't think it strange —
July 12, 2015|Posted in: My World and Welcome to It, quotables, random, Uncategorized, writing
I've been on the hunt for a fountain pen. I had one around here somewhere, I swear, but of course it's gone, like the rest of my mind when I want to find something. I am the proud owner of not just one, but two feather quills with filigree silver points, but I don't exactly want that kind of ink experience.
Somewhere, back in the beyond, I once owned a Montblanc pen, not top of the line, but a fine instrument. And it has gone the way of all things I used to have: into the nevernever of my attic, lost in my old desk at work, left behind at the exhusband's before we parted. Gone. I can be Zen; I have no attachment. Except — I want a fountain pen I can actually use.
I want to be like Jo March in Little Women, ink-stained fingers and passionate ideas flowing, the pen scritching across the parchment rapidly but not fast enough. Sometimes — despite my speed with a Biro or a laptop — only ink and paper will do.
I get a hankering for old things. For the old ways, with no electricity or internet.  I have a manual coffee grinder and a washboard. A kerosene lamp and a cast iron pan. I have a manual typewriter, too, for such a time when — well, why would I need a typewriter after the apocalypse, anyway? Will Daryl and his zombie-hunters need to see something typed up in triplicate? I doubt it. But I have these fancies and so I indulge them.
Life would be split asunder without letters.
— Virginia Woolf
Lately I have been exploring the family crypts, as it were, old letters, lists and certificates, as I search for clues about how things were back when we owned slaves or pioneered in a new land, when we crouched in steerage for three weeks, sick and damp, arriving in Nova Scotia or New York with a cough and a dream. Copperplate handwriting was the norm, and it shows itself on every document, in every packet of letters.
I get a hankering for the old ways, want to put nib to paper and spiral out a lovely line of news to a distant relation: The weather has been fine, the corn is tall, and I had the best blackberry pie I've ever had last night. I want to fold my paper into thirds and crease it, seal the envelope with a kiss, stamp and send it on its way.
I am sending a piece of myself to you. My heart on paper, in your hand.
A letter for your thoughts.
As soon as my new pen arrives.
Facebook Conversations
comments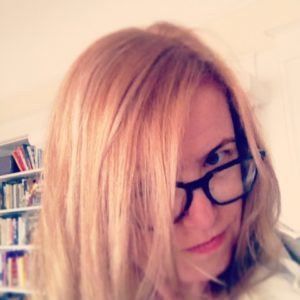 Julia Park Tracey is an award-winning journalist, author, and blogger. She is the author of six books: three novels, one poetry collection, and two women's history. She was the Poet Laureate of Alameda, California, in 2014-17. She's also the conservatrix of The Doris Diaries, the diaries of her great-aunt Doris Bailey Murphy. She has a BA in journalism from San Francisco State University, and MA in Early 20th C. British Literature from Cal State Hayward. Julia's articles have appeared on Salon, Thrillist, Paste, Scary Mommy, Narratively, Yahoo News, Your Tango, and Sweatpants & Coffee. Her articles have also run in Redbook, Woman's Day, Country Living, House Beautiful, Town & Country, the San Francisco Chronicle, Oakland Magazine, Quill, and MadeLocal. She was the founding editor of weekly Alameda Sun and literary zine Red Hills Review. Her poetry has been in The East Bay Literary review, Postcard Poems, Americus Review, Cicada, Tiferet Review, and many others. Julia has been recognized several times by the San Francisco, East Bay and Peninsula Press Clubs as well as the California Newspaper Association for her blogging since 2003.
1 Comment