chicka chicka boom boom!
March 3, 2010|Posted in: chickens, fabric, work
The chickies are here! Meet Daisy, Poppy, Rosie, Violet and Bluebell, one of each of several different breeds of chickens that were waiting to come home with me from Penngrove Hay and Grain. They are happy in their little box-home and as soon as the rain stops, they will go outside and get a little bit of sunshine. We are set to get a premade chicken run from good neighbors Erin and Jack (bee- and chicken-keepers, awesome writers, good people). They also have a hen house for us but it may be too big to get here. We shall see. Sunday is the day.
But here they are, and aren't they cute?
My days now have an added activity, to care for the chickies, and make sure the kitties stay away and that young people don't handle them too much.
I was away in Penngrove over the weekend and did lots of thrifting and meandering, plus hanging out with my parents and good friend from long ago, Melinda. We went to dinner Saturday night for my birthday dinner, and sister Carolyn came, too. Good food included Sonoma wine, local veggies, goat cheese, mushrooms and cream. Eat locally, get fat, wherever you are…mmmm.
I did a lot of wandering through antique stores and thrift/consignment shops. I came away with a boatload of vintage embroidered linens, linen fabric, laces and doilies, fabrics and funky items — including a wind-up alarm clock (love it!), a washboard, and a cookie cutter shaped like a peeping chick. Plus I got 100 lbs of black oil sunflower seed for my birds. Plus the chicken feed. I am now washing my way through piles of laundry — my own, Mr. Husband's, since he was away all week on business and pleasure, and these new-to-me linens.
Today I got back to my sewing machine and finished the Sur la Table-inspired napkins. Here they are, as well as a closeup of the fun fabrics I used:
And other than that, not much new here. My sewing room overfloweth. I'm trying not to get sick with Simone and Austin's cold. Dinner tonight is Mexican-ish. I am baking an enchilada casserole and boiling pinto beans (no cans for me). Corn and green beans for veg on the side. American Idol is on tonight, as are many other shows that got set aside for the Winter Olympics, which, btw were really cool. I love Canada. I'm glad they won the hockey game. And I think I want to live there. Not visit. Live. It's tropical there, right?
Peace out, chicken-lovers.
Facebook Conversations
comments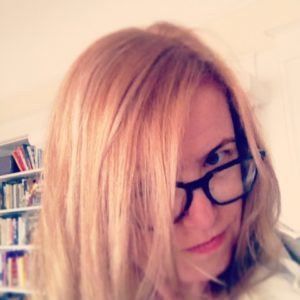 Julia Park Tracey is an award-winning journalist, author, and blogger. She is the author of six books: three novels, one poetry collection, and two women's history. She was the Poet Laureate of Alameda, California, in 2014-17. She's also the conservatrix of The Doris Diaries, the diaries of her great-aunt Doris Bailey Murphy. She has a BA in journalism from San Francisco State University, and MA in Early 20th C. British Literature from Cal State Hayward. Julia's articles have appeared on Salon, Thrillist, Paste, Scary Mommy, Narratively, Yahoo News, Your Tango, and Sweatpants & Coffee. Her articles have also run in Redbook, Woman's Day, Country Living, House Beautiful, Town & Country, the San Francisco Chronicle, Oakland Magazine, Quill, and MadeLocal. She was the founding editor of weekly Alameda Sun and literary zine Red Hills Review. Her poetry has been in The East Bay Literary review, Postcard Poems, Americus Review, Cicada, Tiferet Review, and many others. Julia has been recognized several times by the San Francisco, East Bay and Peninsula Press Clubs as well as the California Newspaper Association for her blogging since 2003.
2 Comments