When Reading Saved My Life
September 27, 2015|Posted in: appreciation, Books, gratitude, News, photos, Poet Laureate, Reading, work, writing
I was a special guest at an event last week, the 30th anniversary celebration for our local adult literacy program. The non-profit Alameda Reads teaches immigrants and adult learners how to read and write in English. As part of the celebration, several of the participants read a short piece about an event in their lives. For some, it was the first piece of creative writing they had ever done. It was an honor to hear them reading, in front of a large group (we filled the bookstore!), sharing a piece of their souls with us.
As Poet Laureate of Alameda, I was invited to address the new readers with a few words on what reading meant to me. I found this moment incredibly poignant. I loved to read as a child. In fact, it sometimes feels like books saved my life.
I grew up in a pretty big family — five kids, a shared bedroom. Someone was always bickering with another about possessions, who sat where, who got to go first. From the moment I learned to string letters into words, I had my escape into Wonderland: I could read, therefore, I had a secret garden of my own.
I knew how to read before I started school. Probably all those hours of playing school with my older sister helped. When we sorted into groups in first grade, and started on the Janet and Mark early readers, I was off. Away. Gone. I raced through each book, turning page after page, and when it was my turn to read in Circle Time, I had no idea where we were. I was pages, chapters ahead.
Soon my teacher pulled me aside and said I was going to join a different reading group. It was scary when I was called out, and I wondered if I was in trouble. But, back in those heady days of California public schools, when tax money was plentiful, I got to go to a sort of reading lab, where we learned to read faster and faster, were tested on vocabulary and encouraged to read as much as we wanted. To this day I read fast and comprehend well. (I take tests quickly, too. Had I done it wrong, if I was the first one finished? I wondered for years, in high school, college, masters, the first one to finish.).
A book, for me, is the proverbial room of my own, a place to go to pass time, silence the critics, keep the cruelty of the world away. People don't criticize you, ask you for more than you can give, hate you, in books. Books can — I know this is a very saccharine cliché — but they can, if not be friends, then take the place of friends. I've owned some books longer than I've known most people in my life. I've reread some of my books so that I know what's coming before I read it. And still I read them again and again.
Some faves: All the Little House books (Laura Ingalls Wilder). A Town Like Alice (Nevil Shute). The Empty House (Rosamund Pilcher). The Lord of the Rings (JRR Tolkein). The Chronicles of Narnia (CS Lewis). Gone-Away Lake and The Melendy Family series (Elizabeth Enright). Watership Down (Richard Adams)…and other odds and ends that have come my way. I like to reread my books.
I told the adult readers that no matter what was happening in their lives, they could always find a quiet place inside a book. Not deep wisdom, but tested, many times over, when I need my own little space.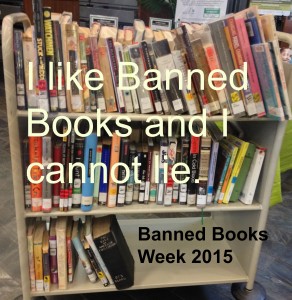 Sunday, Sept. 27, marks the beginning of Banned Books Week 2015. This week, think about your relationship with books and how much richer — or poorer —  your life would be with more — or fewer — of them.
Facebook Conversations
comments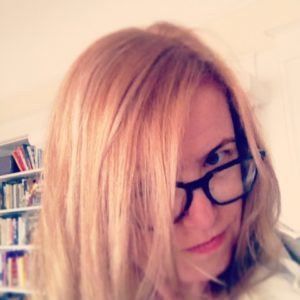 Julia Park Tracey is an award-winning journalist, author, and blogger. She is the author of six books: three novels, one poetry collection, and two women's history. She was the Poet Laureate of Alameda, California, in 2014-17. She's also the conservatrix of The Doris Diaries, the diaries of her great-aunt Doris Bailey Murphy. She has a BA in journalism from San Francisco State University, and MA in Early 20th C. British Literature from Cal State Hayward. Julia's articles have appeared on Salon, Thrillist, Paste, Scary Mommy, Narratively, Yahoo News, Your Tango, and Sweatpants & Coffee. Her articles have also run in Redbook, Woman's Day, Country Living, House Beautiful, Town & Country, the San Francisco Chronicle, Oakland Magazine, Quill, and MadeLocal. She was the founding editor of weekly Alameda Sun and literary zine Red Hills Review. Her poetry has been in The East Bay Literary review, Postcard Poems, Americus Review, Cicada, Tiferet Review, and many others. Julia has been recognized several times by the San Francisco, East Bay and Peninsula Press Clubs as well as the California Newspaper Association for her blogging since 2003.
1 Comment
Newbie Writers - […] Check it out. When Reading Saved My Life. […]