tick tock: happy thoughts
February 25, 2010|Posted in: appreciation, cats, garden, photos
Waiting for Mr. Glass-fixin Guy to show up. Tick tock. In the meantime, here's a short list of happy things:
1.
The gardenia
brought to me by my daughter Ana. Sweet scent fills the room. It was a birthday gift that truly has kept on giving.

2. Bought seeds for the garden yesterday. Mostly American Seed Co., not the world's greatest seeds, but they do the job. I grow them organically. We eat them for months. I like my garden. Seeds = spring.

3. Ophelia, aka Fifi. What's not to love? She rules my heart.
 
 
 
 
 
4. Hair salon appointment today. Walk in like a mouse, walk out like a babe. Again, I ask you: What's not to love? (No photo available of mouse or babe, sorry.)
5. That satisfying feeling of paying bills, of saving a little money for a rainy day, of cooking good food, and of living well without completely raping and pillaging Planet Earth. Maybe counting piles of gold is your thing. Not mine. I'd rather count the tomatoes off the vine, the finches on the fence, and sunny days so I can hang my laundry out to dry in the breeze.
 
Simple life? I wish it were more so. One day at a time.
Facebook Conversations
comments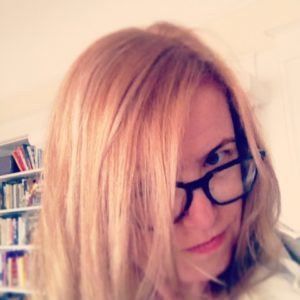 Julia Park Tracey is an award-winning journalist, author, and blogger. She is the author of six books: three novels, one poetry collection, and two women's history. She was the Poet Laureate of Alameda, California, in 2014-17. She's also the conservatrix of The Doris Diaries, the diaries of her great-aunt Doris Bailey Murphy. She has a BA in journalism from San Francisco State University, and MA in Early 20th C. British Literature from Cal State Hayward. Julia's articles have appeared on Salon, Thrillist, Paste, Scary Mommy, Narratively, Yahoo News, Your Tango, and Sweatpants & Coffee. Her articles have also run in Redbook, Woman's Day, Country Living, House Beautiful, Town & Country, the San Francisco Chronicle, Oakland Magazine, Quill, and MadeLocal. She was the founding editor of weekly Alameda Sun and literary zine Red Hills Review. Her poetry has been in The East Bay Literary review, Postcard Poems, Americus Review, Cicada, Tiferet Review, and many others. Julia has been recognized several times by the San Francisco, East Bay and Peninsula Press Clubs as well as the California Newspaper Association for her blogging since 2003.