Because the events of the past week — the horrific shooting deaths of nine African-Americans in a Charleston church by a young white racist, and the — maybe — final straw that will bring down the Confederate battle flag, and bring the longed-for change, I am trying to say —
Because when we were children, in the extremely white liberal suburbs of Marin County in the late 1960s, we used to say, "Eenie meenie miney mo, catch a nigger by the toe," called Brazil nuts "nigger toes," and when someone asked, "Where'd you get that?," the response was, "Stole it off a dead nigger."
Because the one African-American girl in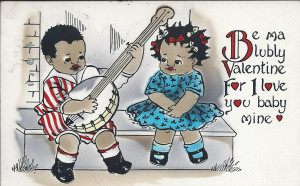 my elementary was so beautiful, but so different from me, and the time she invited me to sleep over, I felt so strange at being the only white person in the house that I never slept over again.
Because when I was in junior high, we watched "Roots" on TV and saw the story of slavery in America, and then named our black cat Kunta Kinte and my sister's sheep Kizzy.
Because the most strikingly odd groups at my white high school were the exchange students from Germany and Norway, or the handful of punk rockers dyeing their hair blue or green in 1979.
Because I never talked to the one African-American boy in our class, and to this day I still don't know his name.
Because my father still says things like "black as the ace of spades."
Because as a young adult, although I was beginning to meet people of color, of all colors, I still used to say that Richmond (CA) was where all the black people lived and was careful never to go there.
Because I married into a Nicaraguan family, I got to hear skin-toned racism as my then-husband swore at African-Americans and Afro-Hispanics.
Because I learned from them that being "pure Spanish" (white and cultured) was better than being "puro jincho" (a peasant, a country hick).
Because when I was suddenly a single mother in 1986 and went down to the welfare office to see about getting help, and was one of few white women there, in shame, I never returned.
Because when I married again, into a Portuguese family, I found myself sitting in a relative's trailer home watching the Super Bowl in 1991, when Whitney Houston sang the most beautiful rendition of "The Star Spangled Banner," and listening to a spew of racist slurs from the man of the house. He said he'd rather kill himself than ever hear the song sung by a black person, and I did not speak up. (But I told my then-husband I'd never go back, which was something.)
In between then and now, I grew, I learned, I opened up and am continuing to ruthlessly self-examine my words and my actions as a citizen of the human race. I don't always succeed.
Because as I now examine my family's American history, I find slaveholders among them, as well as casual racism in every generation (the vintage Valentine above is from my grandmother's childhood scrapbook, circa 1910).
Because it took so long for consciousness to dawn, and for me to understand and own my own racism, I offer this apology to my African-American brothers and sisters for not speaking up before, and my pledge to be an ally going forward.
As we all are, I am a work in progress. May my movement be forward, never backward. It's not about guilt. It's about being accountable and owning our history.
May I be as brave, some day, as Bree Newsome, who climbed the flagpole in Charleston and pulled down the Confederate flag, in seeking to change the world.