I like to re-read my books. I mean, a lot. Once a year, some of them.
This week I re-read an old favorite: 84 Charing Cross Road, along with its sequel (in the same book!), The Duchess of Bloomsbury Street. This is a wonderfully funny and sweet true story, told in correspondence between a New York playwright-freelance writer, and a bookshop employee in London. 84 Charing Cross was the address of the bookstore, Marks & Co. They began their correspondence in 1949 and it ends after 20 years — I won't tell you how. But it was made into a wonderful movie with Anthony Hopkins and Ann Bancroft. See it, some day, if you haven't. It's sweet and bookish and nerdy and just as fun every time. The second book is when Helene Hanff, the NY writer, finally goes to London to visit and meet all the friends she only knew through letters. She hopes to find the "England of literature," and she does!
My eldest daughter, Mia, took a semester to live and work in London so I went to visit her there. We saw a show one night — can't remember which one, but it was in Covent Garden, and right nearby is Charing Cross Road. I forced her to walk with me to the corner at 84 Charing Cross. And I was so disappointed to find a Pizza Hut instead of a bookstore. My photo card burned out on me so I did not get the last set of photos I wanted. But here's what it looks like now.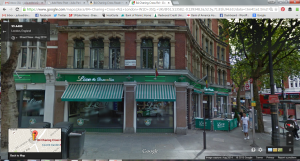 I had many years of yearning for England like a salmon yearns for its stream of origin. It took until my mid-thirties to get there, but I had a lovely adventure. I've been there three times, and each time I go, I find someone or something from England's literary past to enjoy in person.
We once spent an afternoon in a taxi, chatting away at the driver as he drove us around. We stopped at Abbey Road for the zebra crossing (pictures gone!) and drove around St. John's Wood, Primrose Hill and Regent's Park (and no photos!). Do you know Primrose Hill? It's where the dalmations in Dodie Smith's 101 Dalmations went for the Twilight Barking. I had to see it! And see it I did. (I still curse the technology fail of my last batch of photos; the Cloud had not quite come into its own in 2006, and neither had Instagram/Facebook). It was a good visit to London, and I hope I have more ahead of me.
I re-read 84 Charing Cross Road in an afternoon on the sofa, feeling comforted by the visit with an old friend. I closed my eyes and dreamed myself back with a cup of tea and a Tube ticket and a jar of Branston Pickle on the table. Marmalade and lush gardens and blue plaques on the buildings to say which famous person had lived there. Rain, rain, and sometimes sun.
I re-read my books to renew my friendship. To slide into the arms of memory. To make room in a story for myself, and what I need right then: familiarity, warmth, a rose garden with no thorns.
More on this topic soon.