I lost my leather jacket about three weeks ago. I had it on, I took it off, I laid it down, I apparently left it wherever I was and now it has vanished, seemingly forever.
I bought that jacket when I was 19, at Coddingtown Mall in Santa Rosa, where I had taken the bus after classes at the junior college. I was working part-time for my father in his then-new brass wind-chime factory (housed in a barn on our rural property). I strung wind-chimes together: three knots for the center, five knots for the pipes, a jerk and a flourish and it was done. I made 60 cents apiece for assembly and $5 an hour for poly-bagging. I couldn't usually string more than two batches, because my father was working ahead of me, and if I worked too fast, he'd have to stop polishing brass or cutting parts and set me up. That messed up his rhythm and made him irritable.
So I played the radio loud, heavy metal music to cover the sounds of the drill press and band saw, breathed through my hot face-mask to avoid the brass dust and assorted other toxins in the air, and strung wind-chimes.
I earned about $40 per week, put most of it into the bank and spent a little on bus fare and snacks at school. I was taking classes in general ed and journalism, and going to see lots of bands perform. I liked reviewing music and had wangled my way up to entertainment editor at the college newspaper. I got to emcee shows and introduce the different bands that played at lunchtime on campus. I wrote a column called "Park's Peek at Entertainment," where I used such scintillating lines as, "Be there or be a hexagon." I thought I had found my niche.
I definitely had the look down. I had a punky haircut. I had the de rigueur ear piercings, black eyeliner and pencil-leg jeans. I had vintage red leather pumps. I even had fishnet stockings at the ready. But one thing was missing. Obviously. A leather jacket.
So I took about $20 with me to the mall and went straight to Wilson's House of Leather, where about two minutes confirmed that I was never going to be able to afford a leather coat. Disappointed, I walked down the mall, poking into shops and stores, until I happened across an old favorite, Foxmore's Casuals. And there I saw the perfect jacket. It was black and supple, hip-length and double-breasted, its sleeves just the right cut. It sat on my shoulders like a guardian angel: snug, protective, devastatingly cool. The $80 didn't stop me because I knew at Foxmore's I could buy it on layaway. So I did. And four weeks later I had my jacket.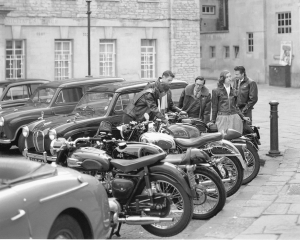 I loved that jacket with the zeal of a convert. I wore it everywhere, including in the rain – which I discovered was a big mistake. But you can't tell a 19-year-old anything, so I learned those kinds of lessons the hard way. I wore the jacket with my mini-skirts, I wore it over jeans, I wore it to school and out to clubs at night. In that jacket I felt tall and tough; I felt smart and pretty; I felt cool and confident. It gave me that certain élan when I went to interview a band. It gave me authority when I took the microphone to introduce the metalheads who were playing that gig. It gave me an edge, which is what a petite, tongue-tied girl with no street smarts from Petaluma needed.
A year later I moved to San Francisco to finish college. The jacket came with me, but when I found myself married and expecting a child, the jacket went into the closet. I moved from San Francisco to Concord, to Oakland, to San Leandro, and had three children along the way. Having babies put some meat on my bones and I couldn't fit the jacket anymore. As a mom, pushing the double-stroller and serving on PTA, I didn't even think about the jacket. But I kept it as a relic from my misspent youth. When my eldest hit about 14, she found it in the closet and wore it once in a while, just for fun. My daughters grew, my marriage crumbled and we sold the house in San Leandro. Somehow, the jacket came along to Alameda, taking up space in another closet.
A few years ago I noticed that leather jackets were getting shorter and a retro look was back in style. I took that coat out of the closet one day, slipped my hands into the sleeves and felt it settle on my shoulders like the arm of an old friend. The satin lining was intact, the leather as supple as ever and it fit me even better than before. And the timing was perfect; somehow, in the midst of all the life-changes going on around me, I needed it – that boost of confidence — again.
Friends, if you've seen me in the past two years, I'll wager that at least once you saw me in that jacket. I loved that jacket, I tell you, because it was me: not just me now, but me when I was 19, before the footprints of life had marked me, before the wear and tear that three children can wreak upon a woman's body or that losing love (and finding it again) can bring to a woman's heart. That jacket remembered the curve of my arm, the jut of my shoulders and never failed to remind me of where I came from and where I am now.
Ah, well, though. It's gone. What can I say? I'll buy another one come fall. I'll get something new, with the rich, earthy smell of leather and a lining so silky that my fingertips will float through the sleeves. This one will have pockets I can actually use and maybe a zipper, and when I wear it I'll feel 10 feet tall. I'll wear it till I'm 90. Watch for me.