It was a long day that began very early in my cozy bed with cats and husband, and alarm ringing at 3:30 a.m. The aircraft had a mechanical issue that added almost an hour to our wait time on the tarmac, and was followed by a bumpy ride, and steeplechase through Dallas-Fort Worth's huge airport, and barely a bathroom stop before sliding into my seat on the last leg to Birmingham. The first leg was so bumpy I dry-swallowed a Xanax and it hit me in time to keep me from clawing my seat-mate as we rumbled above brown Texas, green Louisiana and Mississippi, and red Alabama. I don't enjoy flying, and I had started the adventure with my anxiety at a 9.5 and was above 11 the rest of the day. Or twenty-11. Anyhoo, no, I did not drink a thing. It was still (too early in the) morning for a long, long time. Also, yes, I wore my mask all day. I was a lone masker in a sea of naked faces.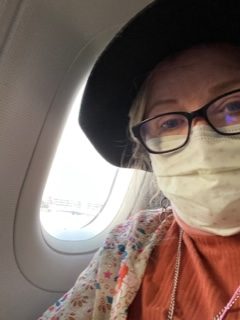 I found myself listening to a couple of playlists for self-soothing, and when the one I call Ebullience (for joy, excitement, energy) ended, it started up the playlist I call Rage, which has a lot of Beyonce/Lemonade in it. I put that list together after Austin died, and I needed something to accompany me as I ran, or tried to run, and get myself to do the 5K. (I only made it to a 3K, but it was still a triumph for couch-potato me.)
Nevertheless, I enjoyed listening to Queen Bey, and then the Allman Brothers came on, "Tied to the Whipping Post," and I took a deep dive into hearing this white man/men singing about how their broken hearts were the same as the unfree being scourged into raw meat or to death. It's a song with a lot of rage in it, and I had added it to the list for that reason back in 2019 when I was feeling a lot of rage about Austin's suicide. But it struck me completely differently on this trip, flying right over the former slavery states of Texas, Louisiana, Mississippi, and Alabama. White dude with a broken heart just doesn't get to compare his sad day with the brutality, the enormity of 400 years of state-sanctioned violence. It is this thoughtless kind of action that I hope to purge from myself–this kind of ignorant, nonchalant racism, where a song that sounds like fun turns out to be a sick anthem. It's hard to say goodbye to pieces of art or artists who we once admired, but if the message is toxic? It's time for me to release my enjoyment of Southern rock (headbanger that I used to be) and try a little harder. Pay a little more attention.
Growth doesn't come when you sit in the same chair and eat the same boogers, my friends.