I love Christmas. I love the smell of pine needles, cinnamon, cookies baking. I love bright lights on Christmas trees. Candles. Some Christmas music (some I hate, but that's because it's terrible music, not because it's Christmas).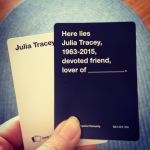 We're in that strange in-between era now when the kids are adults, but none has yet married. There are no grandbabies. So there's no Santa. No cookies and a carrot left out. We still do stockings, but we also play Cards Against Humanities later in the day, and believe me, that is a game that will put you on the naughty list immediately. Sometimes we do Santa gifts (unwrapped) and sometimes not.
It occurred to me the other night how much things had changed since my girls were little, and I crocheted, sewed or otherwise crafted most of their gifts; back when baked goods were all we could afford to give, and we went to Mass and still lit Advent candles.
Nowadays we have a crab feast on Christmas Eve, which has become almost the best part of Christmas. But this is a fairly new tradition for us. I started making Christmas Eve a special feast when I didn't get the kids on Christmas Day. It was the only way to make up for missing the better day of stockings, gifts and more.
A vindictive divorce with a spiteful ex left me with little furniture and no ornaments. The first year I got the girls for Christmas, we strung popcorn and made paper chains, and I bought each of us a few ornaments for "our" tree, not the other tree with the familiar ornaments we'd always had. We went to a paint-your-own pottery studio and painted all the rejected bits (all I could afford) and every year I have had to look at those silly pig and cow ornaments (who puts pigs and cows on a Christmas tree? We did.) and feel bereft of what we'd lost. One of the few ornaments I bought was a blown glass Christmas pickle, which came with a tag that said it was a German tradition. We aren't German, but what the heck?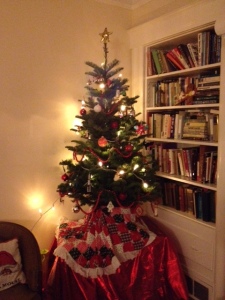 Our Christmases together became more precious because we knew we would be ripped apart the next day, or thrown together after one hurried holiday, to try to get our bearings, adjust to the sugar rush or late night without sleep, start fresh in the morning. A divorced Christmas was painful for everyone.
Somehow, we made those negatives into positives. I was lying in bed with my husband the other night talking about Christmas traditions we shared, and he couldn't believe that the Christmas Eve crab feast and the Christmas pickle were new, had not been in place for decades, for generations. But it's true – I had just grasped at straws, followed whims, and made it work. And today, those random moments feel like solid traditions.
Our traditions and holidays keep changing. All of our adult children work in restaurants or hospitality, and that means weekends are booked; days off are Tuesdays or Thursdays. One of our girls, a pastry chef, works Christmas Eve, Christmas morning til noon, and Dec. 26 at 6 a.m., so there will be no overnight, just a flying visit in the afternoon, for her stocking and gifts. For the first time in several years, we might have that crab feast on Dec. 25 instead of Christmas Eve.
And we live in an apartment now. It's harder than ever for all the adults to find a place to sleep (who wants to sleep on the floor?), and awaken to see what Santa has left. So we probably won't do that, either. But we no longer have custody disputes or the back-and-forth of shared holidays. That tradition, thank god, is also gone.
So how will we celebrate Christmas this year? What will we do? Be a family. We are two parents of four adults and one teen, one cat, and one granddog who accompanies Daughter #3. We will probably have a son-in-law by next Christmas, maybe even a grandchild on the way.
Things change. We're adaptable. We're staying fluid and flexible, reaching out, letting it go, making it work. I didn't sew a single gift this year, nor have I baked even one Christmas cookie. But the lights twinkle on the tree, my husband's annual thematic holiday CD is playing in the living room, and somehow, one day or another, weather permitting, there will be cracked crab.
Tradition? Whatever sticks. Worried about it? Not at all.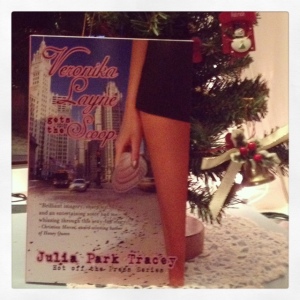 Merry Christmas, Happy Hanukkah, Blessed Yule and a Happy Kwanzaa to all. And that goes for Krampus and Festivus, too. Party on, kids.
* * *
Looking for a last minute gift? Veronika Layne Gets the Scoop is FREE at Amazon through Dec. 23. Grab it while you can!