Shelf-Sitters Anonymous
September 7, 2015|Posted in: appreciation, authors, Books, gratitude, History, MondayBlogs, novel, random, Reading
First things f
irst: Say "shelf-sitters" three times. Fast. Do it.
You said self-shitters, didn't you? You did. I know it.
What is a shelf-sitter? It's a term I have heard used only once in my life, but appropriated and used, at least in my mind, ever since. In third grade, Miss Ellis had a list of books we were to check out from the library on our once-weekly visit: An autobiography. A non-fiction book. A book about an animal. A funny book. A shelf-sitter.
The shelf-sitter is a book that has never been checked out before. In elementary school. that meant you walked along the row, flipping open books and looking at the check-out card and see if it had ever been stamped before. I worked my way through the list quickly and happily, because I loved to read and I loved library day. On the day I found my shelf-sitter, I took it right to my teacher, the lovely Miss Ellis (who had long dark brown hair and played guitar and wore sandals). I held out the book, and said, "I found a self-shitter!"
Her eyes widened. I went red and stumbled to correct myself , horrified at my mistake. "I mean, a SELF-SHITTER!"
Oh, lord.
Another classmate, Pammy Hope, walked up and tried to help. "She means a SELF-SHITTER!" She clapped a hand over her mouth and we stared at each other in horror.
"A shelf-sitter," Miss Ellis said, enunciating each syllable, a slight edge of annoyance in her voice. (Or was it laughter? Decades later, I wonder…)
Despite the agony of my slip-of-the-tongue, I survived and to this  day, I still feel a lot of affection for the shelf-sitter. I wander the aisles of the fiction section, looking for older books, books with battered covers, with the decades-ago embossed stamp on random pages. Books that still have a library card attached to the inside flyleaf, with evidence of being read fifty years ago. Books that are still full of wonderful stories, but are in danger of being evicted from the shelves merely because they are old and unread (or seldom read).
My friends, don't fear the shelf-sitter. Take time to walk among old friends on the library shelves and crack open their pages. This method has served me well. It's how I discovered the delightful midcentury British author D.E. Stevenson (or her fan club, the Dessies), because of half a dozen shelf-sitters in the S section. I now own every book she ever wrote because eBay and Amazon and other vintage book sites hooked me up. I would never have know about the charming Blue Sapphire or sweet Bel Lamington or the hilarious Miss Buncle's Book without those lost and battered souls on the shelf, just sitting.
Which led me to Persephone Books, a British company now reissuing some of these old faves. Miss Buncle's Book, it seems, is finding a new audience (lucky for you, she shall sit on her shelf alone no longer).
I could go on, but I'll stop with this injunction: Go forth, ye, and choose a shelf-sitter. Or a self-shitter, if you can't say it the other way. Choose one now, and help save a book's life. The author, wherever she or he may be, thanks you.
Facebook Conversations
comments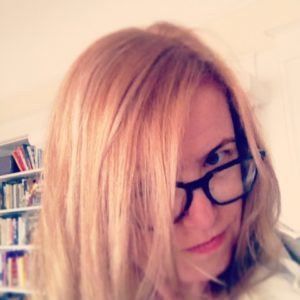 Julia Park Tracey is an award-winning journalist, author, and blogger. She is the author of six books: three novels, one poetry collection, and two women's history. She was the Poet Laureate of Alameda, California, in 2014-17. She's also the conservatrix of The Doris Diaries, the diaries of her great-aunt Doris Bailey Murphy. She has a BA in journalism from San Francisco State University, and MA in Early 20th C. British Literature from Cal State Hayward. Julia's articles have appeared on Salon, Thrillist, Paste, Scary Mommy, Narratively, Yahoo News, Your Tango, and Sweatpants & Coffee. Her articles have also run in Redbook, Woman's Day, Country Living, House Beautiful, Town & Country, the San Francisco Chronicle, Oakland Magazine, Quill, and MadeLocal. She was the founding editor of weekly Alameda Sun and literary zine Red Hills Review. Her poetry has been in The East Bay Literary review, Postcard Poems, Americus Review, Cicada, Tiferet Review, and many others. Julia has been recognized several times by the San Francisco, East Bay and Peninsula Press Clubs as well as the California Newspaper Association for her blogging since 2003.