#NoMoWriMo: Why I Stopped Writing My Novel
November 29, 2015|Posted in: authors, book biz, Books, MondayBlogs, NaNoWriMo, novel, Veronika Layne, work, writing
National Novel Writing Month: NaNoWriMo. It's a thing.
I've participated for several years now, winning a couple of times (winning means writing 50,000 words of dubious merit in 30 days) or not winning sometimes. Since I started writing my "Hot Off the Press" Veronika Layne mystery series, I have found NaNoWriMo to be an excellent way to draft a new book in the series. I'm writing my third Veronika story now, after just launching the second book at an epic release party in early November (see photo below!).
But I didn't finish the 50K this time (the deadline is today, Nov. 30). Why?
One reason is that force-writing is kind of like making fois gras. It's awfully hard on the goose as well as the writer. I find myself in a lot of pain from sitting at the desk for hours on end to make my word goals. And  meeting word quotas doesn't leave any room for days off. If you take a day off (like, say, Thanksgiving), you're 1600 words behind for the next time you sit down. And 3000 is a lot of words to write out of thin air.
I know some people just sit down and pound out a novel, slap it into CreateSpace and put it up on Amazon the next day. I'm not that person. I know very well that the draft I'm writing will need several revisions, and this is what I consider a fairly light story. I'm not looking to write deep themes, layers of metaphor and complex language. I'm not adding resonance. I'm writing plot-driven action sequences with hot sex and cliff-hangers. But you'd be surprised how difficult it is to write that quickly and well — you can do one or the other but you can't do both.
You can write quickly or you can write well. Choose one.
Regardless, I know what I want to happen in the new book and I got most of what I wanted down in a rough draft (emphasis on rough). So that's my second reason. I have most of what I need, and the rest will need to be thought out and added carefully. If I continued writing now, just for the sake of winning, I would be padding just for the sake of adding words. Heck, I could go cut and paste some random nonsense in there just to make the goal. But as it is, of the 40,865 words I wrote on the novel, I know at least 5000 are pure garbage and I want to delete it now. It's there only for future reference. It almost felt like cheating to leave it in as I headed toward the final stretch this year. And that's when I knew it was time to stop.
Writing to achieve a word count is not the same as writing to tell a story or convey an idea. It's like getting high scores on academic achievement tests but being otherwise illiterate. The numbers are not the end result for me. The resulting story should be worth reading, and I assure you, this rough draft is not there yet.
In her classic how-to-write book, Bird by Bird: Some Instructions on Writing and Life, Anne Lamott says to write shitty first drafts. I can say with great pride that I have done just that.
Did you participate in NaNoWriMo, and did you finish? Why or why not? Share in comments.
Facebook Conversations
comments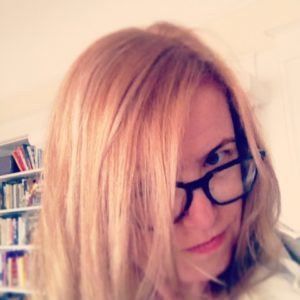 Julia Park Tracey is an award-winning journalist, author, and blogger. She is the author of six books: three novels, one poetry collection, and two women's history. She was the Poet Laureate of Alameda, California, in 2014-17. She's also the conservatrix of The Doris Diaries, the diaries of her great-aunt Doris Bailey Murphy. She has a BA in journalism from San Francisco State University, and MA in Early 20th C. British Literature from Cal State Hayward. Julia's articles have appeared on Salon, Thrillist, Paste, Scary Mommy, Narratively, Yahoo News, Your Tango, and Sweatpants & Coffee. Her articles have also run in Redbook, Woman's Day, Country Living, House Beautiful, Town & Country, the San Francisco Chronicle, Oakland Magazine, Quill, and MadeLocal. She was the founding editor of weekly Alameda Sun and literary zine Red Hills Review. Her poetry has been in The East Bay Literary review, Postcard Poems, Americus Review, Cicada, Tiferet Review, and many others. Julia has been recognized several times by the San Francisco, East Bay and Peninsula Press Clubs as well as the California Newspaper Association for her blogging since 2003.
3 Comments