How the Back Cover of a Novel Changed My Life
March 9, 2015|Posted in: appreciation, authors, Books, novel, writing
I never saw Peyton Place on television or the big screen (they were before my time) but I've heard the comment, "It's a regular Peyton Place around here!" The paperback book, black with yellow letters, resided on the shelf in my parents' living room with a collection of Shakespeare's works and the Arthur Conan Doyle series – both hardbound, with tearing paper covers. Through the 1970s, other books were added to the shelves: Hotel, Jaws, Roots: hefty paperbacks with one-word titles and covers that looked like movie posters. I was never told not to read any of these—nor encouraged; they were just there for the taking. I don't know why I pulled Peyton Place from the shelf but it was the back cover more than the rather salacious middle that arrested me.
"Grace Metalious…the young housewife in blue jeans who created America's most controversial novel." Which part of this tagline is most compelling? That a housewife could write? That a wife could wear blue jeans (my mother didn't)? That she was young? female? full of dark truths about small-town America? Perhaps the photo – said housewife, in a man's shirt and rolled-up jeans, espousing the grunge look thirty years too soon. Keds without socks. A typewriter and an overflowing ashtray on the kitchen table. Who was this cypher?
"Peyton Place, the big bestseller about small-town USA which has been damned―and hailed as 'one of the most extraordinary literary discoveries of recent years.'"
I read Peyton Place, and later, Return to Peyton Place, and learned the secrets of character and interweaving plot lines, of how a character's "forehead smiled" or how a white dress on a shapely young woman made her look like a "well-kept mistress." How nature could keep a plot flowing with a timepiece as simple as the changing of the colors of leaves. I learned the difference between naked and nude. I learned how to read and how to write – and what I wanted to be.
Not a housewife in blue jeans, although I did, in fact, become one. Not an addict who drank herself to death, which is how Metalious ended her days at age 39. But the woman who could be married and have a family and still write; who didn't have to be glamorous to write a good story; to be normal and still have talent. I think her normalness – rising from poverty, using her brain and wits to earn a living – was what attracted me the most. I could be her. "If I'm a lousy writer, then an awful lot of people have lousy taste," Metalious famously said. Yeah, I could live with that.
I keep that same copy of Peyton Place, as a sort of holy card, on my own shelf. She's the talisman, the keepsake of distant longing. Who I wanted to be. Who I've become.
Facebook Conversations
comments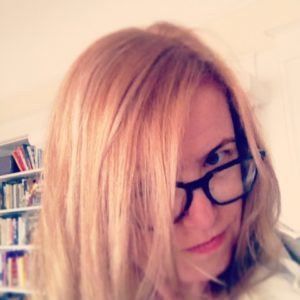 Julia Park Tracey is an award-winning journalist, author, and blogger. She is the author of six books: three novels, one poetry collection, and two women's history. She was the Poet Laureate of Alameda, California, in 2014-17. She's also the conservatrix of The Doris Diaries, the diaries of her great-aunt Doris Bailey Murphy. She has a BA in journalism from San Francisco State University, and MA in Early 20th C. British Literature from Cal State Hayward. Julia's articles have appeared on Salon, Thrillist, Paste, Scary Mommy, Narratively, Yahoo News, Your Tango, and Sweatpants & Coffee. Her articles have also run in Redbook, Woman's Day, Country Living, House Beautiful, Town & Country, the San Francisco Chronicle, Oakland Magazine, Quill, and MadeLocal. She was the founding editor of weekly Alameda Sun and literary zine Red Hills Review. Her poetry has been in The East Bay Literary review, Postcard Poems, Americus Review, Cicada, Tiferet Review, and many others. Julia has been recognized several times by the San Francisco, East Bay and Peninsula Press Clubs as well as the California Newspaper Association for her blogging since 2003.
4 Comments