Her Digs, and a Word from Your Sponsor
January 18, 2006|Posted in: Uncategorized
Forgot to post her mailing address, if you should wish to write to the Queen of Coronation Street:
Mia Romero c/o 12 Delvino Road, London SW64AD England
In other news: still on jury duty, damn damn damn but soon off it, I hope.
Yet more news: Alameda Literati is on TV now. Check this out: http://alamedatv.org/ and also this: http://alamedatv.org/programs/literati.html — notice who the producer is 😉 — it's me!!!
Yep, this is one of my new forays — into television. I'm working with the director of local cable TV on producing a literary program, starting with Alameda Literati footage and continuing into other arenas — taping Red Hills Reviews readings, for example. We were all vexed that we didn't record the spiritual readings program, which was outstanding. So we won't miss the next one. And I will get DVDs of the shows so if you miss it, I may let you borrow it. MAYBE. Beg nicely.
I have wicked amounts of work to do for new clients, for Red Hills (YES, I KNOW), for general housekeeping, for The Music Scene (already) and beyond. It's bad enough to be on jury duty. But now I'm hooked on "24" and "American Idol" is about to start up again. Gadzooks! How is a gal supposed to get anything done?
Answer: She doesn't.

Ah, well.
Advice for Aspiring Writers: Forget about the girl. Move to London yourself.
Facebook Conversations
comments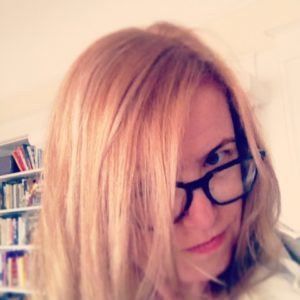 Julia Park Tracey is an award-winning journalist, author, and blogger. She is the author of six books: three novels, one poetry collection, and two women's history. She was the Poet Laureate of Alameda, California, in 2014-17. She's also the conservatrix of The Doris Diaries, the diaries of her great-aunt Doris Bailey Murphy. She has a BA in journalism from San Francisco State University, and MA in Early 20th C. British Literature from Cal State Hayward. Julia's articles have appeared on Salon, Thrillist, Paste, Scary Mommy, Narratively, Yahoo News, Your Tango, and Sweatpants & Coffee. Her articles have also run in Redbook, Woman's Day, Country Living, House Beautiful, Town & Country, the San Francisco Chronicle, Oakland Magazine, Quill, and MadeLocal. She was the founding editor of weekly Alameda Sun and literary zine Red Hills Review. Her poetry has been in The East Bay Literary review, Postcard Poems, Americus Review, Cicada, Tiferet Review, and many others. Julia has been recognized several times by the San Francisco, East Bay and Peninsula Press Clubs as well as the California Newspaper Association for her blogging since 2003.