Fresh Air
January 13, 2020|Posted in: family, House, MondayBlogs, My World and Welcome to It, writing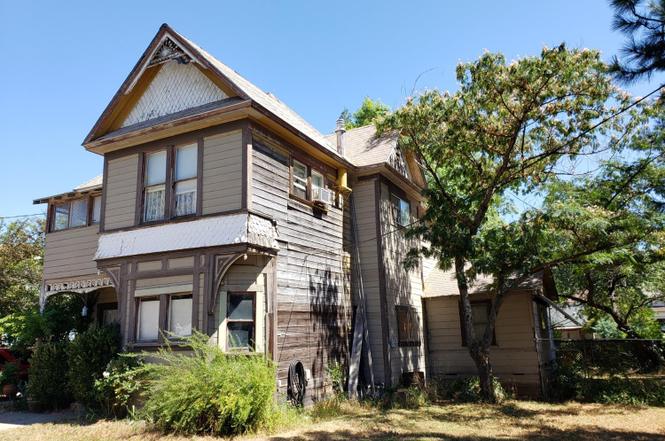 This is our new house. We have spent the past three months working towards buying it, and our effort bore fruit last week when we closed escrow. I'm getting the keys tomorrow. This 1880 Queen Anne is a former duplex, waiting to be renovated back into one big home. We're just the suckers for such a job. As the sellers were packing up, they told our real estate agent that it used to be a brothel. A BROTHEL.
Where else could I find a more suitable place to create new word-things? I shall write all manner of wonder in this house of many stories. I shall have an office and a big table for spreading out all of my pages and books. I'll have a cat in my office and another in the front window, lapping up sunlight. A window seat in the living room and a hidden closet in the wainscoting in the dining room. Space for guests, and a kitchen with enough counter space for all the tomatoes and green beans I'm going to grow, in a garden yet to be planted.
It feels good to have accomplished one thing already in this short new year. And it feels good to look ahead at plans and ideas and projects spilling out before us. I meet with the draftsman on Tuesday. Wednesday is my first literary event — an open mic — where I hope to make new friends. I can taste the excitement of starting to live again. In sunshine. In fresh air. At 2500 feet above sea level.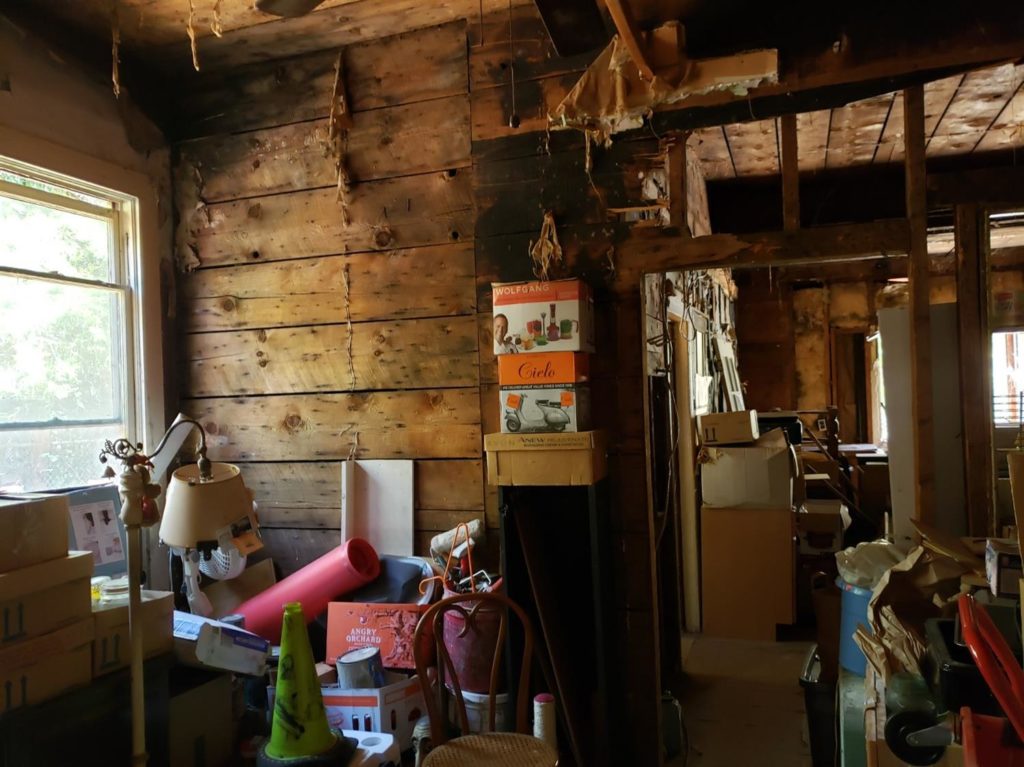 I put a few photos (above) of the inside as representative of the kind of work ahead. The previous owners were overwhelmed by stuff and the grand scale of the work, and we took it, all of this messiness, and set them free. Henceforth, this is our mess. I'll be dialing up for a debris box and a scrap dealer and hosting a mammoth yard sale soon. We'll keep the solid doors and pass along the hollow cores, if any. It looks like work. I mean, serious work, y'all.
I haven't written, you know, except for Facebook posts, for most of the last year, since our boy died. An occasional bright day — a random poem — but mostly nothing. Just oatmeal-brain and lethargy and eating my feelings. One of my cure-alls has always been physical labor: painting, shoveling rock, digging up a garden, pushing a wheelbarrow. I need to be physically occupied in a monotonous, repetitive task before my mind gets up to speed for creative work.
When my brother-in-law Dennis Rich died a few years back, my sister asked me to speak at his funeral. And I was struck dumb — from the grief of being with him when he died, to the pain of telling my family and trying to think of what to say. As it turned out, that was the same year, almost the same month, that we bought the Crow's Nest — another torn-apart wreck with a mountain of trash. But as soon as I got in and started sorting the junk and moving the rocks, the words came to me, and I was able to write and deliver my heart at his service. It is a method I recommend to anyone who has a writer's block.
Because, right now, almost a year after Austin's death, I am still numb and dissociating. I am fairly well traumatized still, perhaps always, from receiving the phone call from the police, saying that a body had been found, when all the night before we had stayed up trying to call him, texting and leaving messages, and wondering if that last sobbing phone call was a moment's weakness or a life's desperation. Getting that early morning call, and knowing it was too late. Turning to look at my husband, who fell down sobbing, me just holding the phone, shaking, sick in every molecule of my being at the details they gave me. Of all the things I cannot unsee or unhear, unspool from my memory, that moment holds me in a vice grip.
So maybe I'm running away from my pain. Maybe I'm singing loudly and juggling fire to keep from grasping at the empty space where Austin used to be. But I want to build something, to try and seize from this terrible bleakness some kind of new life.
May the act of creation, to literally rebuild a house, be the remaking of our broken lives.
Facebook Conversations
comments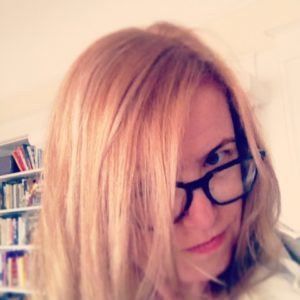 Julia Park Tracey is an award-winning journalist, author, and blogger. She is the author of six books: three novels, one poetry collection, and two women's history. She was the Poet Laureate of Alameda, California, in 2014-17. She's also the conservatrix of The Doris Diaries, the diaries of her great-aunt Doris Bailey Murphy. She has a BA in journalism from San Francisco State University, and MA in Early 20th C. British Literature from Cal State Hayward. Julia's articles have appeared on Salon, Thrillist, Paste, Scary Mommy, Narratively, Yahoo News, Your Tango, and Sweatpants & Coffee. Her articles have also run in Redbook, Woman's Day, Country Living, House Beautiful, Town & Country, the San Francisco Chronicle, Oakland Magazine, Quill, and MadeLocal. She was the founding editor of weekly Alameda Sun and literary zine Red Hills Review. Her poetry has been in The East Bay Literary review, Postcard Poems, Americus Review, Cicada, Tiferet Review, and many others. Julia has been recognized several times by the San Francisco, East Bay and Peninsula Press Clubs as well as the California Newspaper Association for her blogging since 2003.
4 Comments