D'ya think I'm sexy?
March 18, 2009|Posted in: Uncategorized
Compacting and saving for the day — I took all of my odds and ends of gold and silver jewelry — the single earrings, broken chains, stuff from ancient-ex-boyfriends, etc, to the hock shop (aka Fort Knox) and got $20 for my gold and $18 for my silver. And a whole lotta room in my jewelry box, for stuff I really like.
I also had a silver locket and a triple strand of freshwater pearls that they did not want. Instead, I took them to my fave consignment store and that lady gladly took both necklaces to resell. I had $10.50 on my account, an I was debating whether to take the cash or to let it ride a bit longer and more stuff to sell…and I was merely looking at stuff on the racks to look like I would then spend there, not just take the money and run, which is all I really wanted.
Then I saw it…a beaded chain to keep one's eyeglasses around one's neck. Purple sparkly beads, silver findings, and cost = $4. And it was consignment, so not new, and with my account, it was "free," besides being on sale and just $3.50 anyway. So I still have $7 on account there, plus new items to take in later.
Then: took valuable vintage items into my vintage consignment store — gloves, a hat, a costume brooch, a velvet belt/cummerbund (sp?), and a dress and sweater. Waiting to hear what they'll give me for those.
Then: took half a dozen of my new books to local independent bookstore, where they will sell them for me, and we are planning an event in June, to which I am required to bring some 15 guests. I think I can make 15 people come. Just if I invite my own household, ha.
I parked and walked all over downtown for these errands, in a free parking space. I did not find a single coin on the ground, but I did find 2 cans and a bottle.
So…do you think I'm sexy with my new-to-me eyeglass chain and my found-in-the-gutter recyclables and my squint through outmoded prescriptions and my upcoming poetry reading? Because I'm beginning to think I ought to be locked up.
And please don't tell my teenagers. They will lock me up for sure.
love, Granny Clampett
Facebook Conversations
comments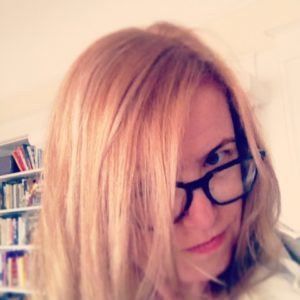 Julia Park Tracey is an award-winning journalist, author, and blogger. She is the author of six books: three novels, one poetry collection, and two women's history. She was the Poet Laureate of Alameda, California, in 2014-17. She's also the conservatrix of The Doris Diaries, the diaries of her great-aunt Doris Bailey Murphy. She has a BA in journalism from San Francisco State University, and MA in Early 20th C. British Literature from Cal State Hayward. Julia's articles have appeared on Salon, Thrillist, Paste, Scary Mommy, Narratively, Yahoo News, Your Tango, and Sweatpants & Coffee. Her articles have also run in Redbook, Woman's Day, Country Living, House Beautiful, Town & Country, the San Francisco Chronicle, Oakland Magazine, Quill, and MadeLocal. She was the founding editor of weekly Alameda Sun and literary zine Red Hills Review. Her poetry has been in The East Bay Literary review, Postcard Poems, Americus Review, Cicada, Tiferet Review, and many others. Julia has been recognized several times by the San Francisco, East Bay and Peninsula Press Clubs as well as the California Newspaper Association for her blogging since 2003.
1 Comment