Days Too Short
August 22, 2005|Posted in: Uncategorized
Ack. Ack. I know that's the Bill the Cat sound but I can't believe it's Sunday night and I am whupped. And the weekend is gone. And there's so much to do. Ack. ACK!
Just wanted to include a picture of my handsome stud-man who swam/rode/ran a triathlon this weekend with injuries and did extremely well regardless. He's my hero.
A few more words — been worried over my Great-Aunt Doris, who is 95 and who has been an inspiration and a cheerleader of mine for literally my whole life. She has been having some health issues and just had a pacemaker put in last Thursday night, so it's been a bit touch-and-go this weekend. Hope she will be feeling stronger and back home again soon.
Lots of great feedback over last week's Red Hills Review reading — want to post more about that but must gasp for breath. Also, I have been invited to read at Oakland's Art & Soul Festival, at the Oakland Lit Expo, Literature Without Borders event. Very exciting; it's an event I've been wanting to do for several years. Yay! It's Monday of Labor Day, at about 4 p.m., at the Lit Expo stage, if you're in Oaktown. Check it out… www.artandsouloakland.com/main/arts.htm
Also, East Bay Express did a write-up about the event — it's online at present: www.eastbayexpress.com/Issues/2005-08-17/calendar/cal-perf.html,
or in the current issue on the streets as we speak (until Wednesday, anyway)!
To wit:
WED 8/17
Alameda Red Scare
Julia Park, an associate editor at Alameda Magazine, has this thing about the color red. Her Red Hills Review publishes poets and prose writers in classic little-lit-mag fashion, and when she and her associates gather for literary events, they try to outdo each other by dressing in red from head to toe, "the more flamboyant the better," she says. The red tide sweeps into Books Inc. (1344 Park St., Alameda, 510-522-2226) this evening (7:30) when Red Hills stages one of its regular readings from its own pages. — Kelly Vance

Kids are at their dad's for a few days, I am solo, still trying to put my apartment together. This is the last gasp for getting organized before school starts, so we'll see what we can do. Next: Alameda Literati. Ack! Ack! Ack!
Advice to Aspiring Writers: Busy is good but organized is better.
Facebook Conversations
comments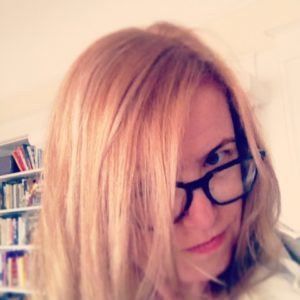 Julia Park Tracey is an award-winning journalist, author, and blogger. She is the author of six books: three novels, one poetry collection, and two women's history. She was the Poet Laureate of Alameda, California, in 2014-17. She's also the conservatrix of The Doris Diaries, the diaries of her great-aunt Doris Bailey Murphy. She has a BA in journalism from San Francisco State University, and MA in Early 20th C. British Literature from Cal State Hayward. Julia's articles have appeared on Salon, Thrillist, Paste, Scary Mommy, Narratively, Yahoo News, Your Tango, and Sweatpants & Coffee. Her articles have also run in Redbook, Woman's Day, Country Living, House Beautiful, Town & Country, the San Francisco Chronicle, Oakland Magazine, Quill, and MadeLocal. She was the founding editor of weekly Alameda Sun and literary zine Red Hills Review. Her poetry has been in The East Bay Literary review, Postcard Poems, Americus Review, Cicada, Tiferet Review, and many others. Julia has been recognized several times by the San Francisco, East Bay and Peninsula Press Clubs as well as the California Newspaper Association for her blogging since 2003.
3 Comments