Countdown
January 27, 2020|Posted in: family, food, gratitude, Grief, My World and Welcome to It, suicide
My husband texted me Saturday night from his mother's house, where he has been staying half the week, alternating with his daughter, to be on hand as caregivers. His mom is slowing down in her 96th year and over the past few months it was clear she needed someone around all the time. Patrick and I live separate lives some days, but are always very much in tandem. We've been through a lot together, from being two separate single parents of teenage daughters, to blending a family, through financial hazards, health problems, therapy, multiple moves, and yes, the worst thing, losing a child together.
I started looking back at photos of Patrick and me when we first got married, and how, despite the challenges (three squabbling teen daughters! Four different schools! Exes and their alternate weekends! Crippling debt!), we still looked and felt so happy. Then I ran across the photo we took in April, just two months after. We're on the porch glider, barely keeping it together, holding Austin's ashes between us. We look destroyed. We were, in fact. It's like one of those Facebook 10-year challenges.

I'm dwelling on this because we are rapidly approaching the one year anniversary of Austin's death by suicide. A year ago he came to see us for the last time, although we didn't know it was so. (You never know. You just never know.) He'd lost his phone, had it stolen, and I had ordered a new one. He drove up with a friend to pick up the phone and get it started, intending to blow through at his usual speed, like a tornado. But the phone needed to be charged, and it would take at least an hour. I had time to bake some cookies. The boys and Patrick watched TV and talked in the living room while I cooked and thought about the hundreds of times I had baked for my kids through the years, from the horse-shaped cookies for Mia's "Little House on the Prairie" birthday party, to the all-shades-of-gingerbread people I made during a diversity week at elementary school; teaching Savanna how to make an apple pie, and the dragon-shaped birthday cake I made for Austin in his 8th year (photo somewhere in a shoebox).
I had seen these "Brookies" on Pinterest and wanted to bake them for Austin and his friend. I had an aluminum baking pan, a box of brownie mix, and a box of cookie mix that I had been saving for such an occasion. I quickly mixed up each treat, and put the brownie batter into the pan first. Big mistake When I tried to spread the cookie dough on top, it smeared and stuck instead of forming two distinct layers; finally I swirled and marbled the cookie dough into the brownie mix and gave up trying to be Pinterest-perfect. And no, I didn't take a picture of the funky mess. #nailedit
The cookies baked, came out and were cooling, when the phone finished charging. Austin and Ethan gathered their jackets, the new phone and charger and I walked out with them holding the pan of very warm dessert. The dessert looked terrible to me with a Pinterest photo in mind, but smelled sweet, chocolatey and sumptuous. "It needs to cool," I said. "It'll be messy if you eat it now." Like they cared! Ethan took the pan and Austin took the wheel. Later Austin said they ate the entire batch on the way back to Oakland.
We didn't know–until we knew–that would be the last time we'd see him. We are zooming toward February with ominous speed. The difficulty is that my birthday is coming—a day I have always enjoyed celebrating. We always had Austin's birthday (Feb. 9), our first romantic date (Feb. 14), our secret wedding day (Feb. 17), my birthday (Feb. 20) and Mia's (Feb 27). We eat lots of cake and treat ourselves for days, saying, "It's our birthday month!" It is a veritable riot of celebrating wonderful things that came to a crashing halt last year on Feb 22. And maybe it's petty, or just another thing that's turned sour, but I just don't feel like I can have a happy birthday ever again. How is it possible to be happy that day?
I had been mulling what to do in February, and missed the day that passed, until Patrick sent me the text. And that last day came flooding back. Sometimes you have a good farewell and sometimes it's perfunctory. You get busy. You don't say "I love you." You wave, and then you move along to the next thing. But I said goodbye that day. I chided and teased the boys about the cookies, my flop of a dessert, my brownie-goof, and hugged them both, telling Austin I loved him before they left. And I watched them drive away til they reached the turn in the driveway. I like to see them drive off safely, as if my mother-love can protect them on their ways.
Homemade crepes for Austin's birthday.

A cake for his Little League team.
Later, Ethan told me that Austin talked about those brownies, and how I had baked for him many times through the years. It warms my heart that my love language of feeding my children was felt, embraced, remembered, shared.
We are having a birthday party for Austin soon — on his actual birth-date. It will be a celebration with his friends and involve Fiery Hot Cheetos, Arizona raspberry ice tea, Subway sandwiches, and, perhaps, cake. We have decided, on the advice of our therapists, not to dwell on Austin's death date, not to fetishize it. It will be a day of self-care, a trip to the beach, to write his name in the sand and call into the wind.
The countdown continues.
Facebook Conversations
comments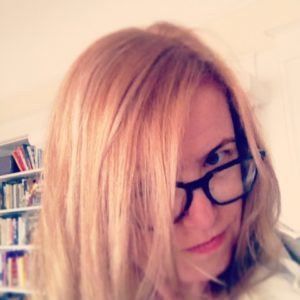 Julia Park Tracey is an award-winning journalist, author, and blogger. She is the author of six books: three novels, one poetry collection, and two women's history. She was the Poet Laureate of Alameda, California, in 2014-17. She's also the conservatrix of The Doris Diaries, the diaries of her great-aunt Doris Bailey Murphy. She has a BA in journalism from San Francisco State University, and MA in Early 20th C. British Literature from Cal State Hayward. Julia's articles have appeared on Salon, Thrillist, Paste, Scary Mommy, Narratively, Yahoo News, Your Tango, and Sweatpants & Coffee. Her articles have also run in Redbook, Woman's Day, Country Living, House Beautiful, Town & Country, the San Francisco Chronicle, Oakland Magazine, Quill, and MadeLocal. She was the founding editor of weekly Alameda Sun and literary zine Red Hills Review. Her poetry has been in The East Bay Literary review, Postcard Poems, Americus Review, Cicada, Tiferet Review, and many others. Julia has been recognized several times by the San Francisco, East Bay and Peninsula Press Clubs as well as the California Newspaper Association for her blogging since 2003.
4 Comments
Home Renovations and Grieving - […] we all want her end to be gentle, dignified, and comforting. And we're smack in the middle of the…
renovations on a Victorian house - […] survived the birthday weekend with much more peace and grace than I imagined possible. Patrick and I went to…