Cold 'n' Rainy
March 11, 2006|Posted in: Uncategorized
What is it about this almost snowy weather? My hands are freezing.
These should be filed under the Random Thoughts tab.
I ask my daughters to do very little. At least, very little compared to the chores I used to do, and with a lot less lip to my parents. My youngest, when asked, gives me the business and says I should take pity on her. "But I'm the fruit of your loom," she says…
Last week I'm at a meeting and this one woman starts talking about her grill, the kind you use indoors that cooks chicken breast or whatever without grease or added fat. It's a small one, she says, small enough to fit on the counter. "You know, one of those Gary Coleman grills…"
…I'm a fast typist. I do not usually make spelling errors, because I'm really good at that, but I type fast and sometimes make typos. Well, actually, I make a LOT of typos. But I usually catch them. One of my favorites, must be my favorite because I do it ALL THE TIME, is "teh," for "the." And "taht" for "that." It's maddening. I think I can set my Word program to autocorrect, but I digress. The funny thing about typos is the inadvertent funnies you sometimes make. Like "assword." I was trying to type in "password," and apparently skipped the first letter. Uh, huh. "assword." Is it just me, or is that *ripe* with possibilities? Such as, when my teenage daughters bend over to pick up something (like a dollar or an iPod, not dirty laundry or a candy wrapper, heh) and suddenly the moon is out and all I want to do is yell, well, you know.
Some things, like the part of our bodies on which we sit, are just funny. Pretty much always.
Some things are not funny. I could list a whole lotta unfunny stuff here but why spoil the mood? Suffice it to say that my next trip into the Black Pit of Despair will probably include a whole list of the Not-So-Funnies. But I'm not there. I'm here, having fun. And blowing on my hands. (whhhhhhhhh)
That's the blowing sound.
That's the sound of one woman blowing.
Tonight at my daughter's school is the Astronomy Sleepover. She told me about it the other day in a mock-dork voice, as she says many many things, so I thought she was kidding. Today I asked her if she wanted to have a friend sleep over and she said, "I can't. I have to go to the Astonomy Sleepover." She wasn't kidding at all. That's what you get at a school that grades its students with rainbows and unicorns and suggests that the school song be the cry of the humpbacked whale. Sometimes they celebrate the end of the school week with the Breakfast of Love. Sometimes they do other fun(ny) stuff. The school/curriculum/ethic work exceedingly well for her and I'm not laughing. I'm not. I'm not. Shut up, I am not.
Gotta whole lotta stuff to tell you about, like some new TV programming I'm working on, whee, and some deep thoughts on my addiction to American Idol and my wall heater, not to mention my ever-hotter love affair with my iPod. But what did I tell you?
Yes, faithful, attentive reader. My hands are cold. I'm going over to the wall heater to warm up. Just for a minute. I mean it. Just for a minute. I'll be right back…
Facebook Conversations
comments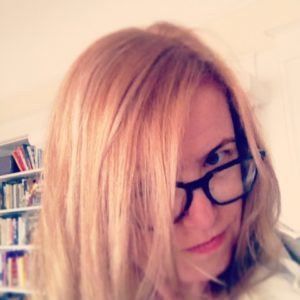 Julia Park Tracey is an award-winning journalist, author, and blogger. She is the author of six books: three novels, one poetry collection, and two women's history. She was the Poet Laureate of Alameda, California, in 2014-17. She's also the conservatrix of The Doris Diaries, the diaries of her great-aunt Doris Bailey Murphy. She has a BA in journalism from San Francisco State University, and MA in Early 20th C. British Literature from Cal State Hayward. Julia's articles have appeared on Salon, Thrillist, Paste, Scary Mommy, Narratively, Yahoo News, Your Tango, and Sweatpants & Coffee. Her articles have also run in Redbook, Woman's Day, Country Living, House Beautiful, Town & Country, the San Francisco Chronicle, Oakland Magazine, Quill, and MadeLocal. She was the founding editor of weekly Alameda Sun and literary zine Red Hills Review. Her poetry has been in The East Bay Literary review, Postcard Poems, Americus Review, Cicada, Tiferet Review, and many others. Julia has been recognized several times by the San Francisco, East Bay and Peninsula Press Clubs as well as the California Newspaper Association for her blogging since 2003.
1 Comment