Breakfast Blues
February 24, 2007|Posted in: Uncategorized
Not having blues. It's having the blacks I'm worried about. Particularly the hash blacks I made this morning. They are called "hash browns" on the side of the package. Yeah, right. Unless you use a gallon of oil, they stick to everything. Non-stick pan? Ha! So I spent 20 minutes chiseling potato from the bottom of the pan, added salt and pepper and served them up as "hash blacks." Then the pan gets to soak for an hour. Then more chiseling and then losing a layer of skin from my hand with the use of a Brillo pad. Fun for everyone.
Prior to the blackening of the potato dish, we cooked some bacon. P started it but then one of the kids sudddenly remembered she had to be at school for drama RIGHT NOW on a Saturday morning. He left it on the stove. I came down and finished cooking it. There was a hecka-lotta grease, so I poured some off into an empty ice-cream carton from the trash. Truened back to the bacon. Looked back at the counter, which was a-swim in grease, having eaten through the bottom of the ice cream carton. Lovely lake-o-grease on the counter top. It was during the Wiping o' the Grease that the potatoes decided to burn.
Luckily I am possessed of a sharp wit, so I managed to clean it all up, chisel it out of the pans, serve it up hot with sliced oranges and call it good. Every scrap was eaten. That proves that kids don't know from nothing.
Darling P came back from the drama run with the Nectar of the Gods, alias Starbucks coffee. For which I was duly grateful. Praise Jah-va.
***
In other news, writing-related, I finished the Alameda super-teens story under deadline (with the extension granted because of computer crash two weeks ago, urg). It was a really fun story to write — in some 3500 words, I think. The hardest part was just getting the schools to deliver the goods. You'd think a free, glossy opportunity to brag would be appreciated and jumped at, but bureaucracies being what they are, some of the schools were ponderous in getting the materials to me. Ponderous being the nicest way to say way-fricking-slow.
Next on agenda:
A meeting with a publisher of poetry today to discuss the publication of a slim volume of verse, finally, finally, we hope.
Work begins immediately on the March issue of The Music Scene — I think I have about 3 days to get it all together. Hmm, guess that means I won't be doing much else this weekend.
My poem, Over Lake Merritt, posted here in early December, was selected for the PEN Oakland anthology, part of the Oakland Out Loud literary series. There will be readings at Oakland libraries the fourth Thursday of the month, April through December. Very exciting news 😉
And more of the same. To be posted soon.
While I've been posting, darling P has done the dishes, scrubbed the Blackened Pan of Doom. Now I feel shame. Well, actually, not so much. Relief, definitely.
And if there is anything else to report, I'll do thusly later. Must curl hair and put on face for poetry-publisher mtg.
Yea, verily, ya-hoo-ha…
Facebook Conversations
comments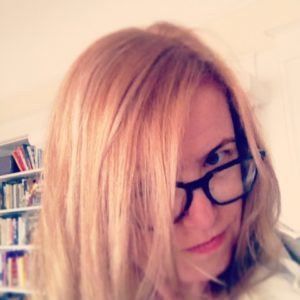 Julia Park Tracey is an award-winning journalist, author, and blogger. She is the author of six books: three novels, one poetry collection, and two women's history. She was the Poet Laureate of Alameda, California, in 2014-17. She's also the conservatrix of The Doris Diaries, the diaries of her great-aunt Doris Bailey Murphy. She has a BA in journalism from San Francisco State University, and MA in Early 20th C. British Literature from Cal State Hayward. Julia's articles have appeared on Salon, Thrillist, Paste, Scary Mommy, Narratively, Yahoo News, Your Tango, and Sweatpants & Coffee. Her articles have also run in Redbook, Woman's Day, Country Living, House Beautiful, Town & Country, the San Francisco Chronicle, Oakland Magazine, Quill, and MadeLocal. She was the founding editor of weekly Alameda Sun and literary zine Red Hills Review. Her poetry has been in The East Bay Literary review, Postcard Poems, Americus Review, Cicada, Tiferet Review, and many others. Julia has been recognized several times by the San Francisco, East Bay and Peninsula Press Clubs as well as the California Newspaper Association for her blogging since 2003.